The Potluck Club Cookbook by Linda Evans Shepherd and Eva Marie Everson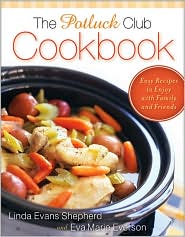 From the popular authors of the Potluck Club books comes a cookbook loyal fans (and anyone who likes to eat) won't want to miss. The potluck meal makes sharing good, home-cooked food with family and friends simple and easy. Start with a few (or a lot of) guests, bring delicious dishes to share, and mix with love. A proven recipe for success. Linda Evans Shepherd and Eva Marie Everson, veterans of countless potluck dinners, have gathered their favorite recipes. From salads to casseroles to slow-cooker delights, there's something for everyone, even those watching their waistlines. Eating in is the new eating out. These great potluck ideas not only save money, but also build memories to last a lifetime.
Nom nom nom. That's what I always say when I finish a Potluck Club book. It also is because I usually find myself snacking while reading. I don't know about you but eating while reading makes the story ten times better. Even better is when you get to actually eat the food you were just reading about. Therefore after I'm done reading/snacking, I want something more. The recipes in the back of the books are great, but it's a little hard to really use the book while you're cooking. Therefore I was really excited to hear that an actual cookbook was coming out.
Being a newlywed, I've been itching to try out all the new appliances we got from the wedding. I'm not a big cook, I make what I like to eat, and am willing to try out new recipes. The biggest factor for me is convenience and easiness. I don't like complicated recipes and unless I'm really in the mood for something, I don't like having to go out and buy food to make something. I prefer to make things that call for ingredients I already have on hand. This book was perfect because the recipes are extremely easy and magically I just happened to have what I needed on hand.

The book is divided up in categories with lots of low fat and healthy foods, plus some decadent delights when you have to have that craving. So far I've made the Stuffed Green Peppers and Turkey Chili. These were in the sections of Crock pot meals. I'm a big fan of crock pots (just turn it on and you can go about your day) so I was glad to see a number of recipes featured in this section.


I had pictures for the meals, but somehow they got erased from the camera. Hence the delay in this post of trying to desparely recover them. :(
So you'll have to trust me that everything turned out delicious and was gobbled down instantly. The Potluck Club Cookbook is a HUGE help and would make a wonderful gift for the holidays. Now I'm hungry again just thinking about it.
Available September 2009 at your favorite bookseller from Revell, a division of Baker Publishing Group.
Here's a sample of one of the MANY tasty and easy recipes:
Linda's Chicken Tortilla Casserole
2 ½ Tbsp. chopped onions
¼ cup butter
3 Tbsp. flour
1 ½ cups milk
¾ cup chicken broth
1 tsp. salt
3 Tbsp. jalapeno peppers
1 ½ cups chopped canned tomatoes (stewed)
3 cups cubed chicken, cooked
½ cup shredded cheese
12 tortillas, cut into 1-inch strips
Sauté onions in butter, then add flour and cook until mixture is bubbly. Stir in milk and broth gradually. Stir in salt, peppers, and tomatoes.
In casserole dish, layer chicken, cheese, then strips of tortillas. Pour sauce over layers then sprinkle casserole with cheese.
Bake at 350 degrees for 30 minutes or until bubbly. Serve hot.
Serves 6-8.
Linda: "You can't go wrong with this tasty dish. It's a potluck crowd favorite." (Page 130)