Book Review: "Watch Over Me" by Christa Parrish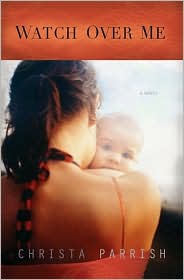 Deputy Benjamin Patil is the one to find the infant girl--hours old, abandoned in a field. When the mother can't be located, Ben and his wife, Abbi, seem like the perfect couple to serve as foster parents. But the baby's arrival opens old wounds for Abbi and shines a harsh light on how much Ben has changed since a devastating tour in Iraq. Their marriage teeters on the brink and now they must choose to either reclaim what they once had or lose each other forever.
Christi Parrish's first novel made me a huge fan of her writing and her sophomore release only solidifies this. Once again, Bethany House has done an amazing job at publishing another wonderful literary novel that rivals those in general fiction. Christa's writing is honest and touches at the heart. The characters are so realistic that it's like walking to your neighbor's house and being able to hear their conversations. There were times during the book when it's hard to read about the relationship between Benjamin and Abbi because it's so realistic. He came back from Iraq a changed man, both physically and psychologically and they both have to live with those consequences. At times, their relationship is strained to the point of disintegration while at others you can tell that they love each other more than anything.

While Benjamin and Abbi's story about the baby was interesting, what touched me most was Matthew's story. His situation was tragic and he totally could have let that control his life. However instead he chose to live out his life and help out those around him. It gave me hope to see him interact with the couple and other people around the town. The story as whole gave me that feeling.
Something that really surprised me about the book is the fact that Benjamin is Indian American. Of course this shouldn't really have shocked me since his last name was Patil but for some reason I initially glanced over that small fact. It wasn't until he began thinking about his parents and their cultural background that it dawned on me. Furthermore, I realized that I believe this is the first time I've read about a male Indian American lead in a Christian book and even more so the fact that there is an interracial marriage in the story. Honestly, I'm actually glad that this fact is so subtle. It avoids any stereotypes and just acts like this is the normal everyday occurrence that doesn't need any attention brought to it. I appreciated that no one at all in the entire book questions or brings up the subject. Cultural differences are pointed out but not once is there a character who is insulted by Ben and Abbi's marriage. I wish more Christian fiction books would feature this style of writing.
Overall this was an extraordinary book. I didn't want it to end as I was totally sucked into the book. If you haven't already picked read Christa's previous book, Home Another Way, you must pick it up along with this one. You will not be disappointed. HIGHLY recommended.
Watch Over Me by Christa Parrish is published by Bethany House (2009)
This review copy was provided for a blog tour with the Christian Fiction Blog Alliance.