Book Review: "An Amish Christmas" by Beth Wiseman, Kathleen Fuller and Barbara Cameron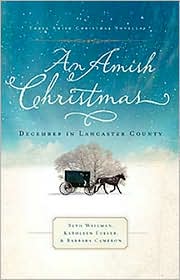 Follow the lives of three Amish families through the Christmas season.
A Miracle for Miriam: Miriam fell for Seth, but he broke her heart. Years later, after he's nearly killed in an accident, Miriam sees him at a Christmas party and notices something is different about him-not just how he looks, but how he acts. When Seth pursues her, she must decide whether to guard her heart or accept his love.
A Choice to Forgive: Lydia has loved two men in her life. Daniel disappeared one Christmas Eve long ago, leaving only a note saying he wanted to live in the Englisch world. And Elam, Daniel's brother, to whom she has been happily married for 15 years. When Elam dies, Lydia gives up on ever loving again. But she is shocked when Daniel wants to return to the Order and her life.
One Child: The birth of one child forever changed the world two thousand years ago. On this snowy Lancaster Christmas Eve, another child will change the world of two couples.
As you know, Amish fiction is hit or miss with me. I don't mind Amish fiction that emphasis the way of life but I don't like reading stories where I feel as if I'm being preached at and made guilty because I don't want to live the way they do. This novella collection has none of that. I would describe this book as comfort reading. The stories, which are all connected, are written by three authors who are known for their Amish stories. I really enjoyed reading this books.
What I liked best about this seri

es was that there was no conversion to the Amish faith. It's a cliche I'm starting to abhor, that every

Englischer

who happens to wander in Amish land must become Amish. Thankfully none of that happens in this book

. Instead what is shown is an introduction to the Amish way of life, which isn't pushy or preachy. There is also a lot of food mentioned which is always a plus.

If there was any story I was iffy on, it would have to be Lydia's story. This is mainly due to her stubbornness and refusal to listen to explanations. I just felt it created unnecessary drama that the story didn't need. Other than that blip, I really had no problems as all with any of the stories. They all emphasized more on the story than trying to be Amish. Other than the obvious differences between their world and the Englisch world, I really didn't see any differences between these stories and those set in modern world.

These three authors do very well with the novella situation. I don't normally like novella stories but I felt that all the stories ended well and the characters were fully developed. I liked how the stories are all connected yet each is distinctly different. The best part is that this book gives a taste of each author's style of writing and if you liked it makes you want to go and read the rest of their works. I feel that this team is good at writing together and I'll be looking forward to reading more works from them, both individual stories and more combined efforts. Amish fans will really enjoy this book and there's the added benefit of getting the reader into the Christmas spirit!
An Amish Christmas
by
Beth Wiseman, Kathleen Fuller and Barbara Cameron
is published by
Thomas Nelson
(2009)
This review copy was provided by the Amazon Vine program.