Book Review: "Love Finds You in Revenge, Ohio" by Lisa Harris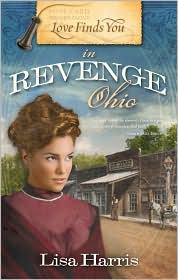 The only thing worse than being a spinster is being a twice-jilted spinster. At twenty-five, Catherine Morgan is hardly an old maid but shes given up on marriage and instead manages the
familys
general store in the small town of Revenge, Ohio. Bound by a promise to care for her three sisters until they marry, shell do anything it takes to keep them safe. However, the towns sheriff has evidence that may stand in the way of her sisters happiness and her own. Revenge can be stronger than love. Will a vow for vengeance arrest Catherine's third chance for love?
The Love Finds You In... series has been putting out some awesome titles in both contemporary and historical genres. This is one of the historical novels and I really enjoyed reading it. I really liked Catherine's character for standing up and trying to protect her family. It wasn't fair that she had to be in charge of her sisters at such a young age but she did everything in stride. I did feel her sisters were a bit spoiled because of Catherine's desire to protect them but it was with good intentions. Her relationship with Corbin is played out very well. I was pleased that there was a history between the two of them and not because of some random chance meeting.
The book, while having a historical setting, isn't really a historical novel. There isn't much reference to historical events that take place outside the town or that involve outside politics and world events. Instead the reader is immersed in the lifestyle of the nostalgic west and frontier when life was harder and the lifestyle was simpler. There is talk about the early use of the telephone in the town and it was enjoyable to read about how Catherine's sister would listen in to conversations as the town operator.
I really enjoyed the mystery that ran through the story. It was done very well and kept me on my toes. I didn't expect the culprit to be who it was and was pleasantly surprised. It's a really fun read that's light and combines the romance, historical setting and mystery perfectly. The story is written extremely well. It's not very preachy, the characters are multidimensional and the storyline just flows very well. This book is great for a fall evening as you get all comfy with a warm blanket and hot cup of cocoa.
Overall I really enjoyed reading this book. I have been impressed with all the titles from the Love Finds You.. series and this book makes a great edition to the pack. I'll be looking forward to reading more from Lisa Harris in the future.
Love Finds You in Revenge, Ohio by Lisa Harris is published by

Summerside

Press (2009)
This review copy was provided by Christian Review of Books