Book Review: "Things Worth Remembering" by Jackina Stark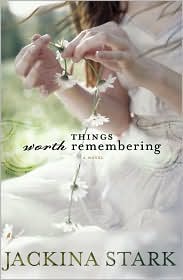 Kendy Laswell and her daughter, Maisey, used to do everything together--until one fateful summer when Maisey witnessed something she shouldn't have, and their relationship fractured. Now, Maisey is back home to get married and Kendy realizes this is her last chance to reconnect with her daughter. Will Kendy and Maisey be able to reclaim the bond they once shared?
I guess it's fate that almost every book I've read this year has something to do with a wedding. I also seem to compare every wedding story with my own. This story takes quite a different turn as it involves a daughter who has been estranged from her mother for over nine years. At first the reader is kept in the dark as to why Maisey despises Kendy so much. This wasn't a problem for the most part, although I did feel at times as if I had somehow glanced over small details or had accidentally skimmed a few pages. As the reader learns the back story between the two women, things start to fall in place and you begin to feel for both of them.
This is not your typical mother daughter story. It was actually quite refreshing to read a story about a mother and daughter who don't get along. I say refreshing, because unfortunately not every single family has close relationships and to continually portray every Christan family as happy go lucky is deceiving. This book shows a realistic side of life that people can relate to.
The story is beautifully written and cuts deep to the heart. The narration switches from Kendy and Maisey throughout the story but it flows naturally.
What I really enjoyed best about the novel is that the reader sees how everyone is both at fault and not at fault at the same time. The blame is placed on both parties as well as no one. It's a wonderful story at the power of communication and forgiveness.
Jackina Stark has absolutely wowed me with her first two novels. Never have been so impressed with a beginning author's works. She has really taken the field by storm and I cannot wait to read more from her. VERY HIGHLY recommended.
Things Worth Remembering by
Jackina Stark
is published by
Bethany House
(2009)
This review copy was provided for a blog tour by the Christian Fiction Blog Alliance.