Book Review: "The Swiss Courier" by Tricia Goyer and Mike Yorkey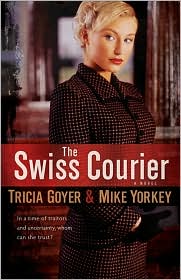 It is August 1944 and the Gestapo is mercilessly rounding up suspected enemies of the Third Reich. When Joseph Engel, a German physicist working on the atomic bomb, finds that he is actually a Jew, adopted by Christian parents, he must flee for his life to neutral Switzerland. Gabi Mueller is a young Swiss-American woman working for the newly formed American Office of Strategic Services (the forerunner to the CIA) close to Nazi Germany. When she is asked to risk her life to safely "courier" Engel out of Germany, the fate of the world rests in her hands. If she can lead him to safety, she can keep the Germans from developing nuclear capabilities. But in a time of traitors and uncertainty, whom can she trust along the way? This fast-paced, suspenseful novel takes readers along treacherous twists and turns during a fascinating--and deadly--time in history.
If you know me, then you know I'm a grad student majoring in history. If you know me really well, then you know I detest European history. Not that I have anything against those across the Atlantic, but I'm a US history buff and (minus British history) it's just hard for me to remember all those facts about Germany, Italy, France, etc. Therefore I usually avoid reading books about European countries because it just really doesn't interest me. However I do make exceptions when one of my favorite authors decides that most of her books will be set in Europe. Therefore I was totally geeked to read this new offering from Tricia and Mike.
If you've watched the movie Valkyrie, this book takes place right after the story ends. The best part of this book is that it takes a story that is not know to the average American reader. I tire of reading books based during WWII that used the same storyline and same events over and over again. I really liked Gabi's character because she's the strong, take charge type of female lead who doesn't wait for a guy to rescue her. Joseph's story is very interesting and brings to mind secret daring rescues. The characters are all multi dimensional and really bring the story to life because you can relate to them even if their situations are a lot more dangerous than ours.
There's a lot of historical detail in the book but it's not like reading a history book. It's never boring or dry. You really get into the story and I was pleased with the outcome. If I ever decide to write a historical fiction novel, this would be the type of book I would want to write.
I really enjoyed reading this as I have every other of Tricia's books. This is another book that flows very smoothly and you can't tell when one author writes and when the other picks up. I felt that the combination of historical facts with the dramatic storyline blends well together. This book made me (gasp!) eager to learn more about the events that took place during this time period. One thing I did find interesting is that the war in the Pacific is never mentioned at all, probably due t

o the fact that war in Europe is so prevalent. It's interesting how it's like that part of the war was totally separated.

Overall this is probably one of my favorite historical fiction books read this year, and definitely one of the best WWII books I've read in a long time. I would love to read more from this dynamic writing team. HIGHLY recommended.
The Swiss Courier by Tricia Goyer and Mike Yorkey is published by Revell (2009)
This review copy was provided for a blog tour with Litfuse Publicity
CONTEST (and this includes CHOCOLATE!)
Pst...pass it on! Help Spread the word about #SwissCourier on Twitter and enter to win a signed copy & Swiss Chocolate!
Just tweet this: The Swiss Courier by @triciagoyer fast paced and suspenseful! Don't miss out!
http://tr.im/Ahjs
RT #swisscourier and we'll enter you into a drawing for 1 of 5 SIGNED copies of The Swiss Courier!
To see other reviews of the book on the blog tour click
here
.