Book Review: "Easy on the Eyes" by Jane Porter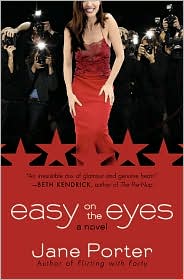 At 38, Tiana Tomlinson has made it. America adores her as one of the anchors of
America Tonight
, a top-rated nightly entertainment and news program. But even with the trappings that come with her elite lifestyle, she feels empty. Tina desperately misses her late husband Keith, who died several years before. And in a business that thrives on youth, Tina is getting the message that her age is starting to show and certain measures must be taken if she wants to remain in the spotlight. It doesn't help that at every turn she has to deal with her adversary—the devilishly handsome, plastic surgeon to the stars, Michael Sullivan. But a trip away from the Hollywood madness has consequences that could affect the rest of her life.
If you've started to think that you're getting too old for chick lit that features 20 year olds and you're not quite ready for hen lit that features the older ladies, this is the perfect book for you. It's written in the chick lit

tone of voice, but features an older character and a story with more depth and less fluff.

Tiana is a character that I liked from the beginning of the story and my admiration kept growing throughout the book. She handled every situation that came at her so much better than I would had I been in her shoes. Even when she was at her lowest point, she did what she could to rise above the situation. If she was in the real world, I think I would really enjoy watching her show especially her during her serious broadcasts. Her friends are great as well. They are her backbone and safety net when she needs them and I was really glad they were there for her.
I have always enjoyed books that feature stories about what really goes on in the Hollywood scene. This book was fantastic with giving details on the behind the scenes info of what it takes to run a morning talk show. It's really scary how so much emphasis is place on looks in Hollywood. I know it's a topic that gets brought up by newscasters all the time about actresses, models and singers but you never really think that this affects the newscasters themselves. All the talk about plastic surgery and the different procedures was fascinating and very detailed. I appreciated the research as it made the story more realistic and really makes you think about the practice.
I think what makes the book really great is that it combines the best of both worlds. It takes the glamour and glitz about Hollywood but shows a serious different side to it and is written in a chick lit form which makes for easy yet thoughtful reading. This was my first Jane Porter book and it's definitely not going to be my last. I've become a fan and I'm looking forward to going back and reading all her chick lit titles. And I just found out that they are all connected so I'm really excited about reading them!
Easy on the Eyes by Jane Porter is published by 5 Spot (2009)
This review copy was provided by the publisher.