Book Review: "The Secret" by Beverly Lewis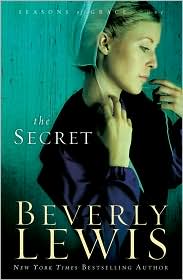 In the seemingly ordinary Amish home of Grace Byler, secrets abound. Why does her mother weep in the night? Why does her father refuse to admit something is dreadfully wrong? Then, in one startling moment, everything Grace assumed she knew is shattered.
Her mother's disappearance leaves Grace reeling and unable to keep her betrothal promise to her long-time beau. Left to pick up the pieces of her life, Grace questions all she has been taught about love, family, and commitment.
Heather Nelson is an English grad student, stunned by a doctor's diagnosis. Surely fate would not allow her father to lose his only daughter after the death of his wife a few years before. In denial and telling no one she is terminally ill, Heather travels to Lancaster County-- the last place she and her mother had visited together.
Will Heather find healing for body and spirit? As the lives of four wounded souls begin to weave together like an Amish patchwork quilt, they each discover missing pieces of their life puzzles--and glimpse the merciful and loving hand of God.
I felt like I already knew the secret
I'm always excited when Beverly Lewis releases a new book. In my opinion, she's the standard for Amish fiction and I usually compare all others to her. I feel like I've learned a lot of the Amish culture through her books and I especially enjoy when she allows English culture to blend with the Amish.
This book showcases the lifestyle of an Amish family who appears to have it all on the outside, but inside is secretly hurting. Grace seems to pick up that there's something not quite right with her parents, but since their culture doesn't allow for straightforward questioning, she's usually left in the dark. Heather's story was a nice interlude in between Grace and Lettie's
tale. I enjoyed reading about her life especially since she was from the Williamsburg area near my hometown. I wasn't sure exactly the connection was between her and Grace and Lettie but I think I might have an inkling. While I enjoyed reading this book, I felt it was a bit predictable. About halfway through the book, I guessed what was going to happen and I was right. I enjoyed the story but I felt that it's a plot that has been done many times before and even feels like the reverse of one of Lewis's own books. I can understand the feelings that Grace's mother might have been going through but it wasn't really fair of her to leave the rest of her family in the dark. I mean they have no idea what's going on, and then she just gets up and leaves with only a note. Her family is totally confused and unaware of Lettie's past. The first half of the story seems to build up to Lettie's secret but since I guessed it halfway, it felt like a letdown. I also have a pretty big feeling I can guess as to the plot of the next book and how the story continues. I'm hoping I'm wrong, because I really dislike predictable plots. As I said before, Beverly Lewis is a favorite author of mine and I will be reading the next book. I just hope that she will prove me wrong!


The Secret by Beverly Lewis is published by
Bethany House
(2009)