Book Review and Giveaway: "I Loved, I Lost, I Made Spaghetti" by Giulia Melucci
I'm giving away

5

brand new copies of today's
book! Leave a comment with your email address so I can contact you if you win. I'll pick a name and announce the winners on Tuesday April 21
. US and Canada addresses only (No PO Boxes). Good luck!
PLEASE LEAVE A WAY FOR ME TO CONTACT YOU!!!!
ENTRIES WITHOUT CONTACT INFO WILL NOT BE ENTERED.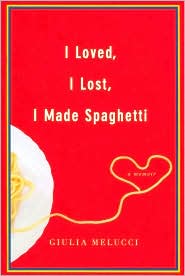 *Although the books I review on my blog are almost always Christian fiction, there will be a few spotlighted regular titles I will review from time to time.*
From failure to

fusilli

, this deliciously hilarious read tells the story of Giulia

Melucci's

fizzled romances and the mouth-watering recipes she used to seduce her men, smooth over the lumps, and console herself when the relationships flamed out.
From an affectionate alcoholic, to the classic New York City commitment-

phobe

, to a hipster aged past his sell date, and not one, but two novelists with Peter Pan complexes, Giulia has cooked for them all. She suffers each disappointment with resolute cheer (after a few tears) and a bowl of

pastina

(recipe included) and has lived to tell the tale so that other women may go out, hopefully with greater success, and if that's not possible, at least have something good to eat.
Peppered throughout Giulia's delightful and often poignant remembrances are fond recollections of her mother's cooking, the recipes she learned from her, and many she invented on her own inspired by the men in her life. Readers will howl at Giulia's boyfriend-littered past and swoon over her irresistible culinary creations.
I'm normally not a fan of memoirs or even most non fiction. Unless I have to read a book for school, you can usually find me with a fiction book in my hands. However, this book was totally able to capture my attention and may have made a convert out of me. Reading it was like reading about my own life. It made me laugh, cry, cringe, and be hungry all at the same time. Giulia's writing makes you feel like you're sitting at the table after dinner with a glass of wine and catching up on old stories.
As Giulia goes through each relationship, my heart ached for her and I really felt like I was there and needed to console her. There are times when you want to be like "No! He's a jerk, get away!!" and others where you're in love with the guy too because he's so sweet and kind. There are some scenes where I just burst out laughing at how Giulia attempts to win the guy over because it was exactly how I used to act. They're so reminiscent of my life that it's almost painful to read.
The highlight of the book is all the food that is mentioned. The recipes are interwoven into each relationship as Giulia talks about the different meals and dishes she would make for each guy. Never one to eat a same meal twice,

Giula

takes pride in the way she cooks and each dish has a special meaning.
The food mentioned in here are to die for. They are simple to make, with easy ingredients that aren't hard to find, yet they are a step above the norm. You can make them for a dinner party and will totally impress your guests. The titles of the dishes range from normal (Grilled Marinated Flank Steak) to fancy (Linguine with Friendly Little Fish) to hilarious (Spaghetti and Meatballs for Cooking Sluts and Those Who Love Them). They all sound delicious and I'm eager to try out a few of these in the future.
This really was an enjoyable book to read. It's perfect for both chick lit and foodie fans. It's a charming,

relatable

and mouth watering read. Do not read this book on an empty stomach and be prepared to whip up a feast when you are done reading. HIGHLY recommended.

For readers of this blog, this book does contain some cursing and sex scenes.


I Loved, I Lost, I Made Spaghetti by Giulia

Melucci

is published by Grand Central Publishing (2009)