Book Review: "Breaking Up is Hard to Do" by Anne Dayton and May Vanderbilt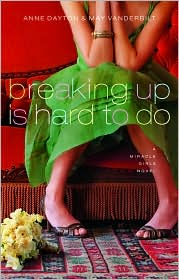 All....by...myself....
Christine has finally found a group of friends with the Miracle Girls. Instead of being a loner, she's learn to bond and trust Anna, Riley and Zoe. These girls become her lifeline as she tries to adapt to her father dating a women she doesn't like and the changes that come with that situation. Unfortunately the other girls seem to be drifting away from each other, no matter how hard Christine tries to keep them together. Will this be the end of the Miracle Girls?


The problem with a lot of YA books these days are that they try to be too trendy, with constant label dropping and made up slang. It gets to the point where these things take away from the story and become so distracting that the reader gets turned off. However, this book does not follow that formula. As always, Anne and May have turned out an amazing work that is a hard-to-put-down page turner. This book brings me back to days in high school where you want to stick close to your group of friends and worry when everyone starts to drift apart. In this story, it's easy to relate to Christine as she tells the reader what her life is like and how she's trying to cope with her father dating a woman she doesn't like. I was glad to see that Candace was not a "mean stepmother" type but I do agree with Christine's nickname for her. The registry scanner scene was hilarious, it's something I might have thought of in my younger days.


I really like how in this book, the girls have become close friends despite their differences. Riley has pretty much given up on the popular clique and bonded with Christine, Zoe and Anna. This is poignant for Christine because she wants to be able to keep this close knit relationship and have everyone be together. However situations arise where the other three seem to drift apart leaving Christine alone and feeling left out, something I could totally relate to. It's a predicament many teen girls find themselves in and the authors portray that feeling excellently.
There were times though when Anna got on my nerves. It would annoy me when she kept bugging Riley about her grades. I mean, yes it's ok to be concerned about them, but it was the way she kept wanting Riley to do bad just so she could get first in the class. I just wanted to take her and tell her, "Look JUST CALM DOWN!!" Riley, on the other hand, while she wants to do well also, does not let school become an obsession in her life. She will try her best but if she does not come out on top every time, she won't stress about it. Anna should take note. I also didn't like how Anna kept pestering Riley about liking a guy. It just kept throwing me for a loop because Riley and Anna have gone from being enemies to being good friends and Anna seems like she's putting a barrier in between them on purpose.


Also, call me slow and not observant, but I honestly had no idea that Christine was Asian! While I do like it when Asian culture is on display full blown, it's also nice to see race issues just blend in the background. I thought this was great because it was a book that went against the stereotype that all Asian teens are either adopted into a white family or immigrated when they were very young. Christine was just a normal average girl who just happened to be Asian. Not every Asian family speaks with accents or has overachievers.


This is another wonderful book by Anne and May and it's a book any YA or chick lit fan will enjoy. It's a fun read and it's always great to read books that tell things like it is. I am eagerly awaiting to read the next book so we can discover Zoe's story. HIGHLY recommended.


Breaking Up is Hard to Do by Anne Dayton and May Vanderbilt is published by Faithwords (2009)