Book Review: "Comfort Food" by Kate Jacobs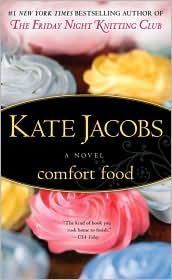 *Although the books I review on my blog are almost always Christian fiction, there will be a few spotlighted regular titles I will review from time to time.*

Shortly before turning 50, TV cooking show personality Augusta "Gus" Simpson discovers that the network wants to boost her ratings by teaming her with a beautiful, young new co-host. But Gus

isn

't going without a fight—whether it's off-set with her two demanding daughters, on-camera with the ambitious new diva herself, or after-hours with Oliver, the new culinary producer who's raising Gus's temperature beyond the comfort zone. Now, in pursuit of higher ratings and culinary delights, Gus might be able to rejuvenate more than just her career.
I am a HUGE fan of the Food Network. It is one of the few channels on TV that I watch regularly. I'm not a gourmet chef or a foodie, but it's just so fun watching the shows on there and even better to learn about new foods and restaurants. I haven't read any of Kate Jacob's other books so I wasn't sure what to expect with this book. I just knew that I wanted to eat the cover. Well after finishing this book, all I have to say is "What a yummy satisfying read!" I read this book during the 24 hour

readathon

and it was one of my favorite books that I read.
Gus is the main character of the book and it is through her that the reader is shown what life as a TV celebrity cook is like. It's quickly learned that life is not all covered dishes and cheery smiles. Due to her age, Gus is afraid that her network will replace her with the young, stylish Carmen who threatens to take over Gus' established stardom. Meanwhile, Gus' daughters are going through crisis of their own and soon find themselves roped into their mother's plans. Gus reminded me of a Paula

Deen

character while Carmen could be see as

Giada

De

Laurentiis

. The relationship between the two resembled oil and water as each keeps trying to outdo the other. I felt since Gus was the protagonist, the reader is supposed to side with her more, but I would have like more character depth with Carmen.
I enjoyed learning what it was like to host a cooking show. The descriptions were so realistic, I could picture the set and the food being prepared. I always enjoy learning what goes on behind the scenes and this book included a lot of that type of information. Now

every time

I see a show on the Food Network, this book comes to mind.
I felt though that some of the secondary character's stories were a bit out of place in the book. While it was interesting and insightful to see into their lives, the stories weren't really wrapped up. They ended abruptly with no real conclusion and I felt like I just spent time getting to know the characters for nothing.
However, this was a book I really enjoyed reading. It was a fast read and filled with lots of good food and a wonderful insight to the world of

television

. I really enjoyed the author's style of writing and it kept me turning the pages in delight as I read. I'm looking forward to going back and reading the rest of Kate Jacob's books and all her future ones as well.
Comfort Food by Kate Jacobs is published by Penguin (2009)