Book Review: "It's All About Us" by Shelley Adina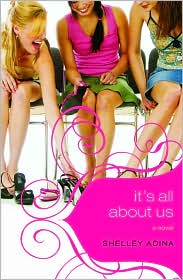 Tall, blonde Lissa Mansfield is used to being one of the "in" crowd--but being accepted by the popular girls at posh
Spencer
Academy
boarding school in
San Francisco
is turning out to be harder than she thought. And then there's her New-York-loudmouth roommate, Gillian Chang, who's not just happy to be a Christian herself--she's determined to out Lissa, too! If Lissa can just keep her faith under wraps long enough to hook Callum McCloud, the hottest guy in school, she'll be golden.
But when Callum pressures her to go all the way with him, Lissa has to decide for herself how far is too far. How can she see that line when he's so gorgeous and popular and she's so dazzled? And besides, she's too busy shopping for a Valentino and booking the hottest celeb for the Benefactors Ball. Who knew finding a place at
Spencer
Academy
would be so complicated?
Fresh, realistic, hip Christian YA
This book (and the other books in this series) has got to be the hippest and most fun Christian YA book I have ever read. I read a lot of YA fiction, both Christian and mainstream, and it's interesting to see the different parallels between the two. Only recently has Christian YA fiction begin to branch out to reach the mainstream YA audience. This book definitely succeeds in being able to merge the two together.
The setting of the book takes place in a boarding school, which is the "in thing" for all current YA stories. The characters all act their age, there's pop culture references that are fresh, and just enough label dropping that teen girls will love but not feel like they are bombarded with. The book is written in a style that fans of Gossip Girl and the A-List will recognize. The IM chats at the end of the chapter are reminiscent of these books and give a shout out to all the teens that use this service. The main attraction of this series is that Adina is fully able to write in a modern teen's voice. She does not include over the top slang that shows she's trying to hard, but neither does she make the girls act like miniature adults. She shows the in crowd and how mean girls really can be. I also appreciated the multi racial cast of characters. I still cannot understand why YA seems to be the only genre in Christian fiction that regularly has multicultural characters that don't happen to be either adopted or immigrants. It's wonderful to read about different cultures and see a truly real cast of characters but it baffles me as to why this hasn't caught on in the rest of the Christian fiction world.
There may be critics of this book that say that teens girls (especially Christian girls) shouldn't be focusing that much on boys. However I will disagree because, being a former teen girl, boys are a part of a regular teen girls life and this book shows what really happens in relationships. While it is a Christian book, the book is not preachy at all. If a non Christian were to read this book, they were neither be offended or feel like they are getting a sermon preached at them. On the other hand, Christian teens who do read this book will enjoy having characters who are Christians but act just like they do.

This is probably the best YA series I've read this year and I'm really glad that it's having such a positive reaction to it. If you are a big fan of YA and would like to read a book that has all the drama, fashion and fun of Gossip Girl but without the sex, language and alcohol use, this book is for you. It's a wonderful edge step for Christian YA lit. VERY HIGHLY recommended.
It's All About Us by Shelley Adina is published by Faithwords (2008)