Book Review: "Almost Heaven" by Chris Fabry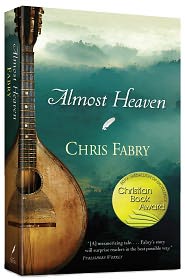 Billy Allman is a hillbilly genius. People in Dogwood, West Virginia, say he was born with a second helping of brains and a gift for playing the mandolin but was cut short on social skills. Though he'd gladly give you the shirt off his back, they were right. Billy longs to use his life as an ode to God, a lyrical, beautiful bluegrass song played with a finely tuned heart. So with spare parts from a lifetime of collecting, he builds a radio station in his own home. People in town laugh. But Billy carries a brutal secret that keeps him from significance and purpose. Things always seem to go wrong for him.
However small his life seems, from a different perspective Billy's song reaches far beyond the hills and hollers he calls home. Malachi is an angel sent to observe Billy. Though it is not his dream assignment, Malachi follows the man and begins to see the bigger picture of how each painful step Billy takes is a note added to a beautiful symphony that will forever change the lives of those who hear it.
I will admit that this book starts off a little slow. I wasn't really sure what was going to happen. It took me a while to gel with the characters and the slow lifestyle seemed to drag a bit. However, the book all of a sudden just takes off and doesn't stop running. Suddenly I got sucked into the story and didn't want to stop reading. I can't exactly pinpoint the exact moment but it was a turning point for the story. The characters suddenly became very lifelike and I couldn't draw myself away from the story.
Billy is a modern day Job character. I mean really, anything bad that could happen to someone, happened to him. The situation involving his father was very sad. Even more so was what he had to put up with in terms of his mother. It pains me to read about things like that because it happens in real life all the time and there's no writer who can change the story to make it all better. His relationships with the townsfolk and the radio station he manages add flavor and color to the story.
Without spoiling anything, there is a scene in the story that I found a bit shocking. It came out of nowhere and suddenly made everything that happened previously click. It's a bit uncomfortable reading it but it's a crucial scene in Billy's story. It's handled very well but for more conservative readers, it can be a little difficult to get through especially considering who it involves and the position they held. The one part of the book I really couldn't get into were the scenes involving Malachi. In fact, if he had been written out completely, I honestly feel as if nothing in the story would have changed. All they did (at least for me) was just give brief out of this world points of views during life changing events in Billy's life. Other than that, I didn't really feel as if they fit into the story.
Overall, I did enjoy the book. While I didn't like it as much as I did with
Junebug
, this was a very good story. Fabry does a good job at drawing you into the plot and when you finally begin to understand the characters, you can't help but root for them. I also like how he ties in characters from his previous books in his new ones. I really liked the climax and ending of the story as I felt it was a good culmination to everything that Billy has had to go through in his life.
I enjoy Fabry's style of writing a lot and I look forward to reading more from him in the future.
Almost Heaven by
Chris Fabry
is published by
Tyndale
(2010)
This review copy was provided for a blog tour with Glass Road Public Relations