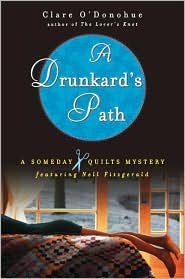 In the sleepy town of Archers Rest, Nell Fitzgerald is finishing her first quilt and preparing for her first date- with Police Chief Jesse Dewalt. When Jesse stands her up, it turns out he has a good reason-the body of a murdered young woman has been discovered near the Hudson River.
Meanwhile the members of Nell's quilting circle encourage her to take drawing classes with the famous artist Oliver White. When Nell's professor meets her grandmother Eleanor, owner of the Someday Quilts shop, he seems instantly smitten. But once another woman's body is found outside her grandmother's home under a blanket of snow, Nell begins to patch together clues and follow a path of evidence that suggests her professor may also have a degree in the art of murder.
After reading the
first book
in the series, I was ready to return to Archers Rest and hang out with Nell and the rest of the Someday Quilts gang. I really had enjoyed my first adventure with them and I was looking forward to reading more about them and solving a new mystery. As this is the second book in the series, there is less introduction in the book and the murder for the mystery happens pretty much right away. There's a lot of twists and turns involving circumstances to the murder and the reader is completely clueless as to what is going to happen next.
Jesse and Nell's relationship is also a key part of the story. They seem like they are meant to be together but each finds out that there are major differences that could prevent them from having a healthy relationship. The reader also sees Nell try out an art class where she develops friendships with her fellow classmates as well as the renowned art teacher who finds sparks with Nell's grandmother. I really enjoyed reading these side stories in the book. The mystery is the main focus but the side stories really help to develop the characters.
While I enjoyed the story, near the end of the book I kind of lost interest in solving the actual mystery. The other stories in the book seemed more interesting to me. When the killer is actually revealed, I will be honest I could not figure out who they were and had to flip back in the book to find them. The buildup for the mystery was good but then I felt the resolution fell flat a little. However, the rest of the story is good. I really enjoyed the relationships that were introduced and those that continued in this book. This goes for romantic, friendship and family relationships. As in the first book, while quilting is a big part of the story it's not threatening to those who are non-quilters. I do like this series very much and am looking forward to more adventures with Nell in Archers Rest.
A Drunkard's Path by
Clare O'Donahue
is published by
Plume
(2009)
This review copy was provided by the publisher