Book Review: "The Lover's Knot" by Clare O'Donahue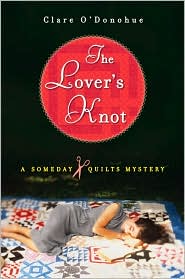 Nell Fitzgerald is thrilled when she receives a gorgeous handmade quilt in a lover's knot pattern from her grandmother Eleanor as an engagement gift. Her joy is short-lived, however, when her fiancé announces he's calling off the wedding. Heartbroken, 25-year-old Nell flees New York City for her grandmother's home in quaint Archers Rest. In this small town Eleanor's life revolves around her quilt shop, Someday Quilts, and the members of the shop's quilting circle.
When the body of a local handyman known for his flirting is found in the quilt shop, murdered with a pair of quilting scissors, Nell finds herself drawn into the case— and drawn to the handsome police chief. As a pattern of clues begins to emerge, one of the prime suspects is Nell's ex-fiancé, whose arrival in Archers Rest seems suspicious. The ladies of the quilting circle continue to piece together their quilts as Nell unravels the mystery.
This book was different from most other cozy mysteries that I have been reading this past year. For one, the main character is a lot younger, more professional and not as bumbling. The mystery doesn't even come into play until about halfway into the story. It's refreshing to instead read more about the characters and not immediately dive into trying to find out whodunit. The town of Archers Rest sounds like a wonderful place to visit. It's just the type of refreshing location that Nell needs to heal af

ter her

fiance deals her the words no one wants to hear.
While the other focus of the book aside from the mystery is quilting, it's not really a quilting book. If you know nothing about the craft, you won't feel lost while reading. There's talk about quilting but it's nothing that will go over the head of a beginner or a non fan. I was worried that there would be technical jargon that I wouldn't understand but luckily there isn't.
The only part of the story that I didn't like was Nell and Ryan's relationship. I didn't like the guy from the start of the book and when he reappears later in the story my opinion hadn't improved at all. In fact it got worse and as the story went on, my feelings were justified. I just didn't like how Nell handled herself around him. I understand her actions due the situation she had just gotten out of but that doesn't mean that I thought they were smart actions.
Other than this, I really enjoyed the story. It's a nice change of pace from your typical cozy mystery with mostly likable characters and a really intriguing plot. The mystery is very well done and I didn't know who it was until right before the killer was revealed. Nell is my age so I felt at times that I could relate to her. I really like her grandmother as well as the other women in the quilting club. I'm looking forward to more adventures with these new friends as well as learning more about quilting.
The Lover's Knot by
Clare O'Donahue
is published by
Plume
(2008)
This review copy was provided by the publisher