Book Review: "Nightingale" by Susan May Warren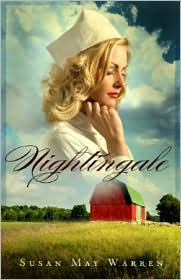 Esther Lange doesn't love her fiancé—she's trapped in an engagement after a mistaken night of passion. Still, she grieves him when he's lost in battle, the letters sent to her by the medic at his side giving her a strange comfort, so much that she strikes up a correspondence with Peter Hess, an Iowa farmboy. Or is he? Peter Hess is not who he seems. Indeed, he's hiding a secret, something that could cost them both their lives, especially when the past comes back to life. A bittersweet love song of the home front war between duty and the heart...a battle where only one will survive.
While reading this book, the first thought that came to my mind was that it reminded me of the book
Summer of My German Soldier
. As far as I can remember this is one of the other few books that dealt with the subject of German POWs working in the fields of the US. Therefore I found it very interesting and wanted to learn more about the subject. Esther and Peter's story is bittersweet. Both of them have histories that are not pleasant to talk about and ones that they would rather forget. Unfortunately due to choices made from their history, they find themselves in the situation they are in today.

While Esther's story is worth telling and intriguing, I personally found Peter's to be the more standout of the two. This is mainly because he was unwillingly placed in his situation. Some of the choices he made were his alone, but others were due to his parents or being swept up with the general public. The circumstances that brought the two together were nothing but providential and seeing how much they had to go through to meet is worthy of a romantic story.
While I enjoyed the book for the most part, I was slightly disappointed with the ending. Call me cynical but sometimes I don't need a completely happy ending. Life isn't always going to end up the way we want it to and it always feels a bit forced to me when a happy ending is tacked on at
the end.
Therefore that's how I felt when I finished reading the book. I was actually almost hopeful that things weren't going to turn out the way I thought they would be but alas the very last pages ruined my theory. I also got a bit frustrated by Esther in the beginning of the story. I was annoyed that she would not open the letter from Linus. Instead she just kept coming up with theories and worrying herself instead of finding out the actual truth. I just wanted to rip open the letter myself.

Even though this is the second book in the Brothers of Arms series, there is absolutely no connection as far as I could tell, therefore this book is a complete standalone. I enjoyed the book very much despite some things I had problems with throughout the story. It's a good World War II read and gives a different perspective and topic from most other novels of the same time period. While it's not my favorite Susan May Warren read, I still recommend it for her fans as it's a great blend of history and romance.

Nightingale by Susan May Warren is published by Summerside Press (2010)


This review copy was provided for a blog tour with LitFuse Publicity
For other stops on the blog tour, click
here
.
Contest: Nightingale is about letters, the power of written correspondence to convey thoughts and emotions to those far away. And sometimes near. Letters are forever, they are something we savor and pull out to read again and again. They are often cherished and kept in a special place.


To celebrate the release of Nightingale, Susan would like you to write a letter. One grand prize winner will receive a Flip HD Camcorder. 5 runner's up winners will win a signed copy of Nightingale.

There are two ways to enter the contest by writing letters.


1. Write a letter to a soldier. At the end of the contest we'll print out and mail your letter for you.


2. Write a letter to a friend, loved one, family member, enemy. Tell them something you wished you'd told them before. Tell them you love them, or maybe how they touched your life. Perhaps an apology is in order or a thank you. Or perhaps you'd like to relate a funny tale or just share life. Whatever it is, submit it here along with your email address and we'll send it for you.


Enter
here
or at the SHARE page on the
Brothers in Arms website
.