Book Review: "The Preacher's Bride" by Jody Hedlund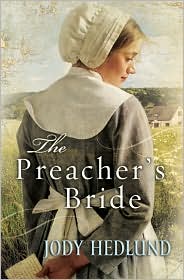 In 1650s England, a young Puritan maiden is on a mission to save the baby of her newly widowed preacher--whether her assistance is wanted or not. Always ready to help those in need, Elizabeth ignores John's protests of her aid. She's even willing to risk her lone marriage prospect to help the little family.
Yet Elizabeth's new role as nanny takes a dangerous turn when John's boldness from the pulpit makes him a target of political and religious leaders. As the preacher's enemies become desperate to silence him, they draw Elizabeth into a deadly web of deception. Finding herself in more danger than she ever bargained for, she's more determined than ever to save the child--and man--she's come to love.


Before I even start off this review, I must make note that this book is NOT about the Amish. Lest you get confused, even though the cover shows a woman in a bonnet, she is a Puritan. Therefore this story is about the Puritans during the 1600s. But this book isn't about all the same things you think of when you read about the Puritans. This isn't about the Salem Witch Trials or Cotton Mather or the Mayflower. This book shows a different side of the Puritans and is a story that I absolutely fell in love with.
I absolutely loved Elizabeth's character throughout this entire book.
She's witty, outspoken and a very smart woman. She doesn't act like modern 21st century woman (which does tend to be a pet peeve in a lot of historical reads for me) but neither does she
allow herself to be taken for granted by members of the community. I loved seeing her speak her mind but only when it was absolutely necessary that she do this. Her relationship with John and his family starts off slow but begins to show love, trust and understanding as time passes. In the case of her and John, I loved watching the passion between the two of them. There is nothing at all explicit about their relationship but you could just feel the smolder. I loved it!

The author's note at the end of the book reveals that this is a retelling of the story of John Bunyan and his wife. I will admit that even though I am familiar with that story, I did not realize this throughout reading the entire book although I did feel some

de

ja

vu

moments. It's a s
tory

that could stand alone as the characters and setting are brought to life so very well.
The book brings up the different views of the Puritan faith. There are several disagreements among the members about how they view different parts of their belief. I found this to be very interesting because you normally never read about this in Christian fiction. It's not usually discussed about how some parts of the Christian faith could be wrong or are being handled in the wrong way. Also since this is the retelling of Bunyan's story, it shows that

Hedlund

had to do double the research to accurately portray the Puritan lifestyle and not just transfer the scene to a different setting.
This is one of the best historical romances I have read this year. There's passion and there's history. It's extremely well written and I am totally amazed that this is

Hedlund's

debut novel. Seasoned authors should take notes from her! I cannot wait to read more from her. HIGHLY recommended.

The Preacher's Bride
by
Jody

Hedlund
is published by
Bethany House
(2010)
This review copy was provided for a blog tour with the Christian Fiction Blog Alliance