Book Review: "Amy Inspired" by Bethany Pierce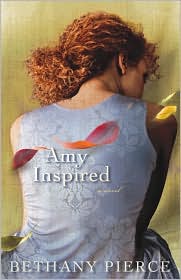 Amy Gallagher is an aspiring writer who, after countless rejections, has settled for a career as an English professor in small-town Ohio just to pay the bills. All her dreams suddenly start to unravel as rejections pile up--both from publishers and her boyfriend. But just as Amy fears her life is stuck in a holding pattern, she meets the mysterious, attractive, and unavailable Eli.
She struggles to walk the fine line between friendship and something more with Eli, even as staying true to her faith becomes unexpectedly complicated. When secrets, tragedy, and poor decisions cause rifts in Amy's relationships, she must come to terms with who she's become, her unrealized aspirations for her life, and the state of her faith. Can she dare to hope that she will find love and fulfillment despite it all?
Sometimes I don't think I fit the targeted audience for a Christian fiction reader. I mean, I'm a 20 something Asian American recently graduated college student who lives in a big city. That's not usually who reads Christian fiction. In fact, I think I only know one other person who fits that bill. Hence, my view of what Christian fiction should be is drastically different from what the typical Christian fiction reader is. I regularly look for books that I feel I could introduce to a non Christian fiction reader and that they would enjoy. This usually means I end up liking books that don't explicitly or even talk at all about Christianity, Jesus, the Bible or church at all. I do want faith to be evident in the story, whether by actions or as an allegory but it doesn't mean that there has to be a sermon reading or preaching done at you everywhere you turn in the book.

Having said all that, I absolutely adored this book. Why did I love this book so much? Because this is one of those books that I honestly feel that someone who does not normally read Christian fiction would enjoy. The story is written extremely well, the plot I feel is totally believable and I felt that the characters were those anyone could relate to, no matter what their faith was.
Amy is a someone who I think almost everyone can relate to. She's a young 30ish professor who is only doing her job because she can't get into the profession she really wants which is writing. She went and got her master's degree specifically so she could get into that field but all she's getting back are rejection letters. Therefore to make ends meet, she's teaching English to budding writers. Reading her story made me feel like I was looking at my own life. I pretty much have done with Amy did. I got my master's degree in history so I could pursue a career as a historian but instead all it's gotten me so far are student loans and rejection emails from jobs saying I'm qualified but not qualified enough. I could relate to her frustration and her moods of feeling down about herself. I also appreciated her willingness to get out of the funk and live even though it wasn't what what she wanted to do.

The other characters in the book really add zeal to the story. Amy's roommate Zoe got on my nerves sometimes (as well as Amy's) but she has another side to her as well. I liked Amy's mom, with her mixed up words and penchant for caring for Amy. The other very interesting character is Eli, whose story is one to feel for after reading. I really liked his character and could have read a book just on him alone. Other smaller characters like Amy's students contribute to the plot as they all come together to help to describe Amy.

This is not your typical Christian fiction book. There are scenes in the book that conservative readers will probably not like. I found them rather tame compared to the stuff that's in general market fiction but others might see them as offensive. I instead saw it as realistic and something someone in our age group, whether they are Christian or not, could be doing. There is one scene involving Amy and Eli that I did find a little questionable simply because I thought it was a little out of place but I can see why it's included in the story in regards to how their characters were
This was my first book from Bethany Pierce and I want to go back and read anything else that she's written as well as any future books from her. Her writing has totally re-energized me and I really want others to read this books. There's something for everyone in here: aspiring writers, contemporary fiction fans, and those of faith based literature. HIGHLY RECOMMENDED.
Amy Inspired by
Bethany Pierce
is published by
Bethany House
(2010)
This review copy was provided for a blog tour with the Christian Fiction Blog Alliance