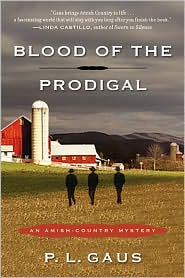 In the wooded Amish hill country, a professor at a small college, a local pastor, and the county sheriff are the only ones among the mainstream, or "English," who possess the instincts and skills to work the cases that impact all county residents, no matter their code of conduct or religious creed.





When an Amish boy is kidnapped, a bishop, fearful for the safety of his followers, plunges three outsiders into the traditionally closed society of the "Plain Ones."



This is the first Amish book that I have read that is not faith based, meaning it's not from a Christian publisher. Therefore the story is a lot different from those that are from a Christian point of view. There were two main differences from what I could tell while reading. First off, while religion is a part of the story due to the Amish culture it is not a main focal point at all. The other is that there is no romance in this book. Almost all the Amish books in Christian fiction have romance as the core focus of the story, meaning it is really a romance story first and using Amish culture as the backdrop.

Because of the different perspective that this book had, I did not know what to expect while reading. I was very surprised that I was completely enthralled and sucked into the story. The characters were written very well and were not stock characterizations. I didn't feel the Amish to be stereotyped at all. In fact, from reading this book it made me want to learn more about the culture and gave me a different view of their way of living than I have from other Amish reads. The mystery was very good as well. Pastor Troyer and Professor Branden are the only English outsiders allowed to work on the case therefore they had to use different tactics that most mysteries would normally rely on. The whole story was actually rather sad as it involves a family matter that never really went the way it could have been. The ending seemed a little rushed
but it's a good mystery when everything is solved.

If you are interested in learning more about the Amish but don't want those that are faith-based or with romance in it, this book is a good starting place. Also if you are mystery fan, these are a good addition to your collection with the unique background and culture. I'm looking forward to reading the other books in this series and personally I think this is how I like my Amish fiction to be more like in the future.

Blood of the Prodigal by P.L. Gaus is published by Plume (2010)

This review copy was provided by the publisher