My Library Reads No. 1
Twitter is the be all and end all when it comes to finding inspiration. Today I mentioned on Twitter that I read more YA than most people think. While I do review some YA books on my blog, I normally don't get a lot to review. However I am a YA fiend and I constantly am borrowing them from the library. But since I don't review library books, no one ever knows that I read them. I think over the course of the year I've probably read at least 150 YA books. That's just a guesstimate, I'll do a year end post later with final stats and findings.
Anyways as I was saying, I posted this on Twitter and then Amy from My Friend Amy came up with the brilliant idea that I should do posts to highlight my library reads since I don't review them. This was mainly due to the fact that until I actually told her this, she had no idea that I had read some of the Blue Bloods series by Melissa de la Cruz. While I write up all the titles on my 2010 reads, I realize that not everyone checks that list on a regular basis. So thanks to Amy, I think I will do these posts. They will probably be weekly depending on if I do get to read anything from the library that week. I should have thought of this ages ago but it's better to be late than never. These won't be reviews, but just brief comments on whatever I read.
So without further adieu, the first installment of My Library Reads
:
Spotlight by Melody Carlson (Zondervan, 2010)

Christian Fiction - YA: 4th book in the On the Runway series. Have enjoyed this series very much. Really love how Carlson uses actual fashion designers in these books. Got a bit annoyed with Paige but still looking forward to rest of books in series.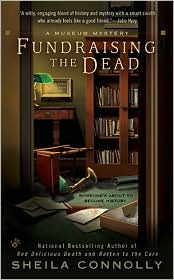 Fundraising the Dead
by Sheila Connolly (Berkley Prime Crime, 2010)
Cozy Mystery: First book in Museum Mystery series, since I am a history major who focuses on museums and archives this book was right up my alley. Loved all the details about what goes on behind the scenes in the archives. Mystery was good. Although a bit bothered in the book that a recent undergrad graduate can get a job in a museum very quickly and I still can't.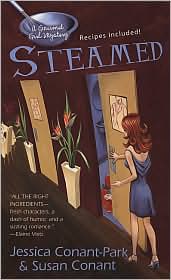 Steamed
by Jessica Conant-Park and Susan Conant (Berkley Prime Crime, 2007)
Cozy Mystery: First in Gourmet Girl mysteries. Read as part of Fall Reading Challenge. Good mystery, lots of talk about food which is always a plus.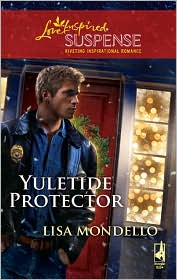 Yuletide Protector
by Lisa Mondello (Steeple Hill, 2009)
Christian Fiction - Romantic Suspense: Actually pretty good for LI Suspense. Not the best but the characters were realistic and the romance believable. The plot involving ex husband who hires to kill ex wife was very interesting.
Read as part of Fall Reading Challenge.