Book Review: "Grace" by Shelley Shepard Gray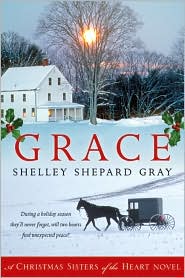 It's Christmastime at the Brenneman Bed and Breakfast, and everyone is excited about closing down for the holidays. But when two unexpected visitors appear seeking shelter, the family's commitment to hospitality is tested. First Levi arrives, sullen and angry . . . but insisting on staying for five days. Next Melody shows up. She's almost nine months pregnant, but won't say a word about why she traveled all the way from Kentucky by herself. As the two strangers settle in, the Brennemans try to make the best of an uncomfortable situation, except for Katie, who and knows a thing or two about keeping secrets. She is determined to learn the truth about these two strangers . . . all while keeping her own secret safely hidden away.
It's always exciting when an author goes back to one of her old series and writes a new book to update you on what's been going on with the characters. It always fees like you get another glimpse into their lives, sort of like peeking in just to say a quick hello. I was delighted to return to Shelley Shepard Gray's first Amish series as I have grown to love her characters and her writing.
One thing I really liked about this book is how normal Katie acts throughout the series. I'm so tired of other Amish books portraying their characters as near perfect people simply because they don't live a modern lifestyle. I could totally understand why Katie would be frustrated with having extra guests in the house. I mean if you had planned an occasion for months and then literally a day before find out that it's going to be ruined, wouldn't you be at least the tiniest bit frustrated? Therefore seeing her getting angry, annoyed and then mouthing off at the new guests was very realistic and much appreciated from this reader.

Another thing that interested me about the story was the topic of rape. I've read another Amish book where I was very distraught at how the Amish acted towards a woman that was raped. It made me feel very uncomfortable and upset while reading. However in this book, while what I may not have done exactly what the characters did, I did feel as if the topic is more better handled and then gives off a better outcome. Also a bit minor but still interesting is that Anna still acts sometimes like someone from the outside world even though she's become Amish. Like someone who immigrates from one country to another, you're still going to always have that part of you exist so it was nice to see that part of her hasn't gone away.

While I enjoyed this book, I felt that this one was not up to Gray's other Amish reads. Normally I absolutely adore her books but this one just felt a little flat. The biggest flaw to me was the storyline that included Leah and Zack. While eventually Zack's character becomes important to the main story, I just felt like they were throwaway characters. Their romance comes out of nowhere and goes WAY too fast in my opinion. This is especially evident in comparison to Melody and Levi who, while meeting around the same time as the first pair, take their time to develop any future relationship.
Overall, I did enjoy the story though. Gray's books are always refreshing to me as they explore the personal side of the Amish and treats them as normal folks as opposed to showing how they stand out simply because they are Amish. It's a good holiday read as well as a nice return to the characters from the Sisters of the Heart series. Even if there are no more books in the future featuring them, it's good to know that they are living well.
Grace by
Shelley Shepard Gray
is published by
Avon Inspire
(2010)
This review copy was provided for a tour with the Christian Fiction Blog Alliance