Book Review: "The White Knight" by Gilbert Morris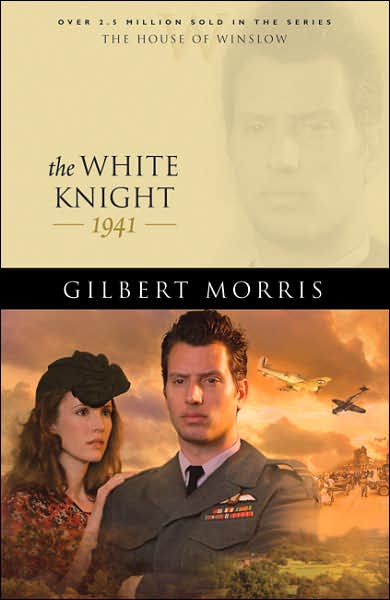 End of an era

The House of Winslow series finally comes to an end with the story of Luke Winslow in "The White Knight". He's a pilot fighting in the Spanish Civil War when his girlfriend's family is killed by German bombers. Feeling depressed he returns home to his family only to become a drunk who mopes around all the time. When one of his war buddies offers him a job, Luke attempts to sober up for it but finds he can't. This mistake costs the life of his friend, which Luke feels responsible for. Ironically Luke finds himself later employed by his friend's sister, who he has kept his identity a secret from. The two fall in love but under false pretenses. When Joelle finds out Luke is in danger of losing her forever. Then Pearl Harbor happens and when Luke feels the call to go into war, he must decide how to prove that he has to be true to himself.

I felt this book was an improvement over the last few that have come out in the series. Luke and Joelle aren't cardboard characters and neither are they complete repeats of Morris' former characters. As always with Morris's books is the rich detail of the culture and history of the time period. I did like how there was a family reunion because the last few books have isolated the main Winslow character with no contact from other family members. It was nice to see some of the older clan from Sky Winslow's descendants back in the story again. I guess however it was wishful thinking to include every Winslow in the reunion, the family tree is way too big and confusing. Also maybe it's just me the two people on the cover, representing Luke and Joelle, look just like Ioan Gruffudd (Fantastic Four, Amazing Grace) and Kate Beckinsale in Pearl Harbor. So that's who I kept picturing the entire time I was reading the book. While there is some plot that seems to be repeated (hiding true identity, being the only non Christian in the family), this book seemed on par with the earlier novels in the series.

I'm really sad to see the series ending, I mean WWII isn't even halfway over. I always wonder why Christian historical fiction never goes past WWII. There might be one or two books about the fifties, but other than flashbacks we hardly ever read about the 60s, the Vietnam War, the Cold War, anything in the 80s. Do they consider it too recent to be history? Do we have to wait another 50 years before they'll start writing historical fiction about that age?
I wish though they could have at least updated the tree to include the last few books. Alana still isn't married and I still feel sorry for poor Dan Greene and Anne Winslow's family from back in the 1800s, they got mentioned in book 7 and then disappeared right after that! I also never understood why they created a new entire family line with Maylon Winslow, and the whole bit with Lance Winslow all of a sudden becoming a southerner was ridiculous. Little discrepancies aside,
I really enjoyed reading HOW, this was one of the first Christian fiction series I read after becoming a Christian so I've grown up with it. I've learned a lot from reading these books, in fact it's one of the reasons I got interested in history. While plots tended to repeat themselves and some characters were intolerable, the series does show a good representation that the changes in America do not affect a family of strong Christian faith.
The White Knight
by Gilbert Morris is published by
Bethany House
(2007)