Book Review: "Murder, Mayhem and a Fine Man" by Claudia Mair Burney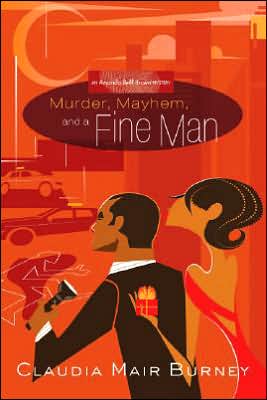 Sassy with a touch of edge
Amanda Bell Brown is a forensic psychologist who one night on the town with her sister meets up with Jazz Brown, a fine man, no relation to her. You know that Jazz is a guy who is perfect for Bell when he doesn't run away after she throws up on his shoes. And since Bell has just turned 40, this may be the man who she'll spend the rest of her life with. But before she can think about settling down, Jazz and Bell find themselves at a crime scene where the murderer may be someone connected to Bell's long forgotten past.


I did not want to stop reading this book. From the beginning, Bell keeps you on her toes with her sassy attitude and no nonsense personality. Jazz is perfect for her, in that he wants to take care of her but since he's been hurt in the romance field, he wants to take things slow. The two of them have great chemistry together. Sometimes he would annoy me with some of his actions (like showing up in her house unexpected) but for the most part he's a really great guy.
I was really creeped out with the whole Gabriel/cult situation. Bell's past was also painful to read but it showed the true power of God that she was able to get out of that lifestyle. I love how many "taboo" topics were brought up in this book and that Claudia Burney was not afraid to write about them. For example, Bell and Rocky used to be an interracial couple. That topic is still not brought up a lot in Christian fiction, and while the two are not in a relationship anymore, they are still friends and not affected by it. Also Bell's past and her situations with Gabriel are very intense and with very mature topics, so this book is not recommended for younger teen readers. I applaud the edginess of this book. I couldn't put it down because of it. I can't wait til I get my hands on the next book in the series.
Murder, Mayhem and a Fine Man
by
Claudia Mair Burney
is published by
NavPress
(2006)