Book Review: "A Promise for Ellie" by Lauraine Snelling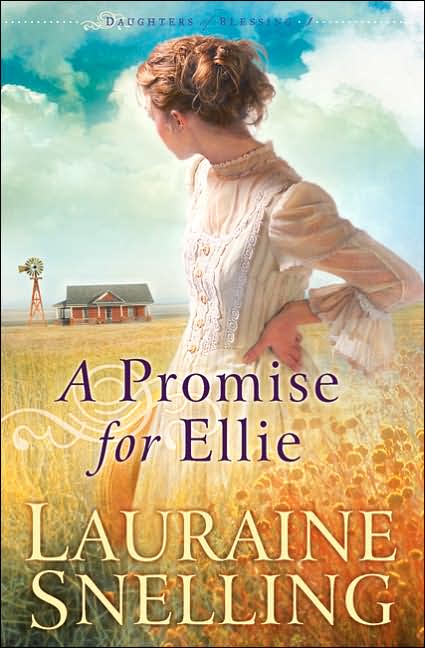 The story continues...
Lauraine Snelling has taken us yet again to the community of Blessing, North Dakota. This time the story focuses on Andrew, Ingeborg's younger son, and his fiance Ellie. The two have known they would get married ever since they were little. When the pair have to postpone their marriage due to circumstances beyond their control, Andrew is angry at the delay, while Ellie accepts the wait. She wants to learn what it'll be like to have a home with Andrew. However Andrew keeps growing more sullen and distant with her. Then tragedy strikes making the couple having to rethink their relationship and especially their upcoming marriage.
I love the Bjorkland family and I'm glad that we are able to again join with another generation of the family. The original series, Red River of the North, was excellent as was the second series with Thorliff. I love how there is so much detail about prairie life, this time new and old worlds collide as Thorliff's wife is now the doctor of the area. All the familiar faces are still around, making cameos at least. I really liked Ellie. She was practical, reasonable, patient, and understanding. She was able to stand up to Andrew even when he was being completely stubborn. Andrew's temper has been brought up in past books as a forewarning that it would get him into trouble someday. I kind of got annoyed with him sometimes. I know that he loved Ellie and wanted to be with her, but his actions and attitude were very childish. When his father tried to give him reasons about why he should wait a bit for the wedding, which IMO were very reasonable, Andrew throws a tantrum. He gets mad that Ellie wants to go to her own bridal shower. He keeps thinking she's cheating on him. When the climax happens, I know this sounds sadistic, but I'm glad Andrew finally realizes he's gone over the edge and now has to pay the consequences. I never got bored reading this book, I love the historical detail, I love all the background stories from the characters. I can't wait for the next book in the series. At this rate Lauraine will never leave the town of Blessing which is perfectly fine with me!
A Promise for Ellie
by
Lauraine Snelling
is published by
Bethany House
(2006)