Book Review: "Renovating Becky Miller" by Sharon Hinck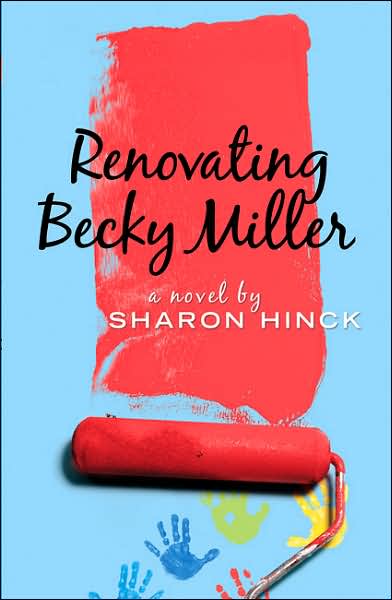 Don't forget to enter the book giveaway to win a copy of Wedgewood Grey.
Click here to enter. I'll pick a name and announce the winner on Wednesday.

Mom Wars Episode Two: The Attack of the Home Repairs
Becky Miller is back. This time the supermom is facing a daunting new task: moving into a spacious farmhouse that needs some fixing up. All she wants is just some movie nights with her husband and family in a new quiet simpler life out in the country. Alas that is not to be as the farmhouse needs the Extreme Home Makeover of a lifetime, Kevin's mom (whom Becky can't seem to please) moves in with them, her friend Lori is battling depression, her work at church is stretching her thin, and to top it off Kevin and her aren't having the wonderful loving marriage she thought it would be. It'll take some renovating of her own to show Becky what is and should be the most important things in her life and how once again Supermom can't do it all.
First off I want to say I am a huge movie geek nerd. So is it sad that I recognized almost all the movie scenes prologues without even having to look in the back of the book? I absolutely loved those times when Becky uses her imagination. And she did all my favorites: Star Wars, Lord of the Rings, Narnia, Indiana Jones, James Bond! (I'm showing my inner geek here) I felt this book was even better than the first. The writing is top notch with lots of humor and feeling. I really love how Becky does allow herself to get angry and frustrated at people even if its close family and friends. It makes her a more real and relatable character. I really could feel sympathetic for Becky in this book. It seemed that no matter what she did it wasn't good enough for anyone. She really stretched herself out thin trying to help both the church and her family. I agree with Becky about the church doing too much to help out others but not think about their actual members. Yes it is important that we need to witness to others but should church members have to suffer from being burnt out? I also felt Becky's pain about trying to have to please Kevin's mom all the time, and how she had to back down because Kevin's mom had the bad past background card to trump everything Becky did. Also at times I got frustrated with Kevin. It seemed to me he was being selfish at times just because Becky wasn't giving him the attention he wanted. It almost seemed providential that Becky hurt her leg again so that people could finally realize that they needed to show her more appreciation. It's really sad to think about how we take our moms for granted sometime.

This is one of the best mom-lit books out there. It makes me wonder if this will be what my life will be like next time when I have my own family. I highly recommend this book for everyone (moms, movie lovers, home renovation experts). Here's hoping for a Becky Miller Episode III: Revenge of the Kids....

Renovating Becky Miller by Sharon Hinck is published by Bethany House (2007)