Book Review: "Torrent Falls" by Jan Watson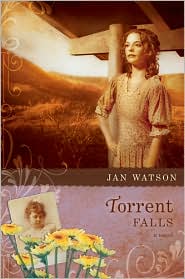 You can go home again
Copper Brown is now a single mother raising her young daughter. She has returned to her home at Troublesome Creek after the death of her husband to start her life over again. Now the local midwife, she tends to the needs of others. Then an old childhood sweetheart returns and Copper begins to fall in love again, finally able to erase the pain. But just when it looks like there will be a happy ending, secrets from John's past threaten to destroy any future for him and Copper.
This is the third book in the Troublesome Creek series. I was worried that since I hadn't read the other two I would be completely lost. Luckily this book can stand alone as a novel because there is enough back story so a new reader would not be lost. I really liked Copper's character. She's a single mom living in the frontier but she is fully capable of supporting herself. Yes there is a man she is in love with but she doesn't need him to take care of her all the time. Her relationship with her daughter is very loving and tender. This is especially important because Copper is also a midwife and also serves as the area's doctor to those in need. The other characters in the story are interesting especially the siblings Dimmert, Darcy and Dance. The first two come out of nowhere to help out Copper and her daughter while the Dance needs Copper to help her with her own child.

I enjoyed reading about these characters because they added life to the story. Copper's relationship with John is passionate yet they both keep restraint due to being strong in their faith.
I was worried that the ending would be typical of most Christian fiction when involving secrets that could ruin an engagement. However I was pleasantly surprised at the outcome because it was unique and not at all what I had expected.
Fans of the other two books will probably enjoy reading more about Copper and her adventures.
I myself am looking forward to going back and reading the previous novels in this series and I'm hoping to read more future novels about Copper's life.
Torrent Falls by Jan Watson is published by Tyndale (2008)