Book Review: "Seventy Times Seven" by Brandt Dodson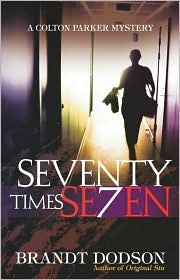 Forgive and forget
Colton Parker has been called to another case. This time he's been hired to find the wife of a man who supposedly had everything. She's disappeared without a trace and her husband has hired Colton to bring her back home. Without much to go on, Colton begins to hunt for Claudia while having to deal with his strained relationship with his daughter. The revelations from both events put Colton to the test in discovering more about his own personal issues.
This is a book I believe guys will love. It has everything they could possibly want in a book.
Of course female readers will enjoy this book too but I really think that Dodson has huge potential for the male readership in Christian fiction.
The story is a fast paced page turner. I could not put this book down. The story is riveting and makes you think a lot as well as keep you on the edge of your seat.
This is one of the edgiest novels that I've read in Christian fiction and really enjoyed it more because of that fact. Like the first novel in the series, it's gritty and realistic and does not sugarcoat life at all. If you're used to clean sanitized fiction, I would recommend being prepared to read this book with wide open eyes. I really like Colton's character. He is flawed. He has relationship problems with his daughter. He breaks rules to get information for his job. But he's one of the coolest characters I've read in a book this year.
The ending is a shocker, one that I did not see coming. I'm looking to forward to seeing how it will play out in future books.
Fans of mainstream suspense authors like James Patterson are sure to devour this book. Like I said before everyone will enjoy this series, but male readers will definitely get a kick of these books. HIGHLY recommended.
Seventy Times Seven by Brandt Dodson is published by Harvest House (2006)