Book Review: "Beautiful Dead: Arizona" by Eden Maguire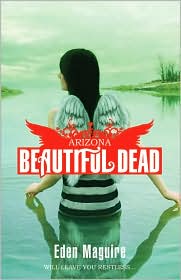 Darina's only chance for immortal love is to sacrifice everything for an enemy…
Darina has always loathed prickly, arrogant Arizona but after weeks with no sign of the Beautiful Dead, Darina is willing to put up with anything if it means seeing her undead boyfriend, Phoenix. With less than two months before Arizona's time is up, Hunter returns with the Beautiful Dead and demands that Darina live up to her promise to help them.
I really enjoyed the first book in this series. I was actually really surprised that I did because this book has paranormal elements and normally I don't read those types of books at all. However, the story really grabbed me due to the mystery plot line and I found myself really engrossed in the book. Reading Arizona's story was no different. I really enjoyed the story and as soon as I finished found myself raving about it online.
As I said with the first book, I found the storyline to be pretty believable. Even though the Beautiful Dead are pretty much zombies or lost souls, they did not act in the typical manner that others in that situation are always portrayed. They act like normal humans other than the fat that they are dead. Their emotions and feelings are still intact. This is evident in Arizona's feelings for her younger brother. And as in the first book, the mystery is done very well and I had to force myself not to look at the ending. I was really surprised at what really happened with Arizona's death. It was a bit violent and rather dark. However the emotions that Arizona was facing before that were things that teen girls do experience. Hopefully they will never end up the way Arizona did.

The relationship with Darina and Phoenix is bittersweet. It's going to have to end soon. They both know this and can't escape it. However, they are content with just enjoying being with each other for the time being. There's no rushing to do things or wishing for a future that can't happen. They just simply enjoy each other. Interestingly there's not a lot of sex in these books or even a lot of cursing. They really are enjoyable reads and I am definitely excited to read the next book. I don't think that I'll be turning to other paranormal reads any time soon but these books are definitely the exception. And a really well written exception at that.


Beautiful Dead: Arizona by Eden Maguire is published by
Sourcebooks Fire
(2010)
This ARC was provided by the publisher