Book Review: "A Memory Between Us" by Sarah Sundin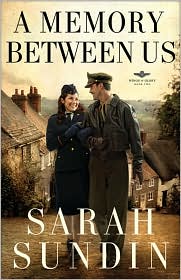 Major Jack Novak has never failed to meet a challenge--until he meets army nurse Lieutenant Ruth Doherty. When Jack lands in the army hospital after a plane crash, he makes winning Ruth's heart a top priority mission. But he has his work cut out for him. Not only is Ruth focused on her work in order to support her orphaned siblings back home, she carries a shameful secret that keeps her from giving her heart to any man. Can Jack break down her defenses? Or are they destined to go their separate ways?
I enjoyed the first book in this series,
A Memory Between Us
, because of all the historical detail and research that was put in the novel. As I've said before, as a historian, I prefer historical fiction with a touch of romance as opposed to historical romance. The difference is where the emphasis of the story is place, either on the historical part or the romance part. While this sequel has more romance than the first part, there is plenty of historical facts to keep me satisfied and enough romance to make me swoon.
This story introduces us to Jack Novak, brother of Walter from the first book, and Ruth Doherty. Both are serving in the military as a pilot and a nurse during World War II in Europe. The two meet and begin a cautious relationship because Ruth is struggling with a past that she can't seem to get over. Due to both of them being in the military, there is a lot of talk about planes and army hospitals, both which I found very interesting. There's also subtle humor in this book. I was cracking up at the beginning scene where one of the soldiers gets "married" to morphine. It's not ROTF material but it's a good example at how spirits had to be kept up during wartime.
While I really enjoyed this book, the one thing that bugged me was how Jack judged Ruth for something that happened when she was 13. I know that this eventually got resolved, but for those few chapters when it didn't, it really annoyed me how he had this high and mighty attitude towards her. And then he kept thinking that she deserved what happened to him and that really pushed me to the edge. First off, I hope that I will never be judged for something I did when I was a teenager or a child. Second off, we shouldn't be judging people for their pasts if we're supposed to be Christians.

I felt that Ruth was already being very hard on herself but when Jack condemned her for the very things she hated about herself it must have been 20x as worse to hear it from someone you loved.
I'm looking forward to the next book in the series. Sundin has skillfully blended history and romance together and gives the reader an entertaining yet educational read. It's very obvious

that she has done her research with World War II culture and history. I really appreciated all the details that

made the story come alive and had me feeling like I was actually there. If you're looking for a good series about World War II, you must check out this books.
A Memory Between Us by
Sarah Sundin
is published by
Revell
(2010)
This review copy was provided by the publisher
Sarah Sundin
presents
The Movies and Memories Giveaway
in honor of book 2 in the Wings of Glory series.
A Memory Between Us
is available for purchase wherever fine books are sold.
From the English countryside to the perilous skies over France, A Memory Between Us takes you on a journey through love, forgiveness, and sacrifice.
To celebrate Sarah is giving one lucky winner A Movie and Memory Prize Package! One grand prize winner will receive:
* Make-your-own-photo book from Mypublisher.com
(Capture your own Memories)
* Netflix Subscription
(New or Nostalgic Movies delivered right to your house)
* Starbucks gift card
(To keep your engine revvin')
*Gourmet chocolate
(A favorite in the 1940's and now)
* British specialty teas in carved wooden box
(Timeless tradition)
* Miniature model of a B-17 Flying Fortress bomber & C-47 cargo plane
(Everyone needs a few toy planes)
*Big Band music CD
(Break out your dancing shoes)
* WWII authentic poster playing cards
(Cards – a perfect game for two)
* Keep Calm and Carry On
(Uplifting sayings WWII, a boost for troubled times)
To enter simple click on the icons below (contest runs 9/27 - 10/17!)