Book Review: "Don't Look Back" by Lynette Eason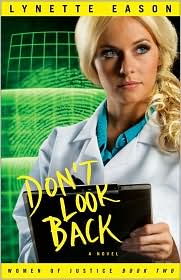 Twelve years ago, forensic anthropologist Jamie Cash survived a brutal kidnapping, torture, and rape. After years of therapy, she has made a life for herself--though one that is haunted by memories of her terrifying past. She finally lets herself get close to a man, FBI agent Dakota Richards, when signs start appearing that point to one frightening fact--her attacker is back and ready to finish the job he started all those year ago. Can she escape his grasp a second time? And will she ever be able to let down her guard enough to find true love?
Stories about psychopath killers always get my attention because they just give me an unnatural creepy crawling feeling. I've mentioned before how I normally don't like these stories because there is no explanation for their madness and they usually do these things just out of enjoyment. Well even if I don't really like the actual killer, seeing how an author can write a well written storyline involving this plot always shows me what a good writer can do. This is especially evident to me in Christian fiction where normally stories are usually safe even when involving unpleasant subjects.
Even though this is the second book in the Women of Justice series, it can be read as a standalone. Jamie is a character whom I have total respect for. I cannot imagine having gone through what she did and then keep working in a field that could potentially put her in that situation again. She's very smart and very strong despite everything that's happened to her. Still though it's obvious that it still affects her and it will never go away. I felt this is very realistic and something not often seen in Christian fiction. Even if you have strong faith in God and are a Christian, it doesn't mean that something that traumatic is going to magically go away. Throughout the entire book, the story was filled with twists and turns and I did not know where the story was going to end up going. It's wonderfully written with characters that are both realistic and engaging.
The only tiny fault I could find with the book was that I felt the storyline involving the family secret of the Cash family seemed a little over dramatic. It came out of nowhere and I felt that the main reason it was introduced was to create a character for the next book in the series. Other than this I really enjoyed reading this book. This book is categorized as romantic suspense but it's way more of a thriller/suspense book with just a touch of romance. Honestly, I felt like the romance story was just a minor plot in the background and not as big as the back cover blurb makes it out to be. The thrills in this book was fantastic. I was on the edge of the my seat throughout the entire book. I personally didn't find the story too dark or violent though some conservative readers might want to read the book with caution. This is a fantastic book from

Eason

and I'm really looking forward to seeing what she has in store in her next book. Suspense fans will definitely want to get a hold of this book.
Don't Look Back
by
Lynette

Eason
is published by
Revell
(2010)
This review copy was provided by the publisher