Book Review: "I Now Pronounce You Someone Else" by Erin McCahan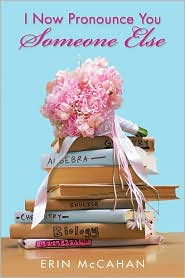 Eighteen-year-old Bronwen Oliver has a secret: She's really Phoebe, the lost daughter of the loving Lilywhite family. That's the only way to explain her image-obsessed mother; a kind but distant stepfather; and a brother with a small personality complex. Bronwen knows she must have been switched at birth, and she can't wait to get away from her "family" for good.
Then she meets Jared Sondervan. He's sweet, funny, everything she wants — and he has the family Bronwen has always wanted too. She falls head over heels in love, and when he proposes marriage, she joyfully accepts. But is Jared truly what she needs? And if he's not, she has to ask: What would Phoebe Lilywhite do?
I don't know about you, but when I was in high school, I used to pretend I had an alter ego. No, I did not have a split personality or anything like that. However there were times that I wish that I could redo a situation as someone else and see how differently the scenario would have turned out. Therefore I could totally relate to Bronwen in this book as she
struggles to find out who she is and what she really wants.
This book is all about finding identity. There is nothing that Bronwen wants more than to belong to a family that truly loves her for what she is. Unfortunately after the death of her father, her own family just splits off and loses the bond that holds them together. Bronwen feels lost until she finds Jared who not only loves her but whose family gives her the security, comfort and love that she wants. The story shows how she navigates between knowing what she think she wants and what her heart truly wants.
I will admit that I am always a little wary of books that involving teens getting married. Not that I don't think they should, but I do think that a lot of times the teens aren't really ready to get married. While some are, a lot of times many others aren't mature enough to handle all the pressures and responsibilities of marriage. They seem to think that it'll be fun and be like playing house. This story made me worry a bit because Bronwen is not even a senior in high school yet when she accepts Jared's proposal. While the author made her to be 18 years old and a legal adult, I still felt throughout the book that she wasn't really ready for marriage. I was really glad at how this book handles that very scenario. Therefore I was really pleased with the ending of the story. It was realistic and handled very well.
If there was anything that really bugged me about the novel, it was Bronwen's mother. I was very disappointed with the revelation about what happened all those years ago. The reasons seemed to be very selfish and it hurt two people intensely for years. She came off as person, who like Bronwen, didn't know what she really wanted either.
Overall I really enjoyed this book. I really liked Bronwen's character and her journey to discover who she really was and who she wanted to be. McCahan's writing is refreshing and a great addition to the YA contemporary genre. It's light and deep all at the same time without having to be a downer. A great recommendation for those who want a slice of life story. I will be looking forward to more books from her in the future.

I Now Pronounce You Someone Else
by
Erin McCahan
is published by
Arthur A. Levine Books
(2010)
This review copy was provided for a blog tour with Book Sparks PR