Book Review: "Love Finds You Under the Mistletoe" by Irene Brand and Anita Higman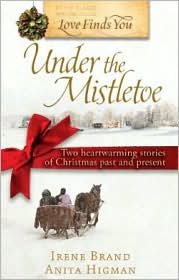 Romance times two means more love for you! When Julia Mayfield and her nephew visit Kentucky for
An Appalachian Christmas,
she meets David Armstrong. Sparks fly---but something sinister lurks! And in
Once upon a Christmas Eve,
Hollie Goodnight is swept up in the publicity over her award-winning holiday shop. Can Owen Quigley calm her down?
I've been a fan of all the Love Finds You books but for some reason this volume just didn't gel with me. I think it mainly has to do with the fact that the stories are novellas as opposed to one singular story. I'm not really a fan of novellas because I like stories where the characters have time to grow and so the reader can take the time to get to know them. I just couldn't find myself being able to relate to the characters because everything happened so fast.
The endings of both stories felt very unreal to me. It seemed as if the authors wanted tidy, happy endings because things started happening very randomly. Characters popped up out of nowhere and I felt that extra story lines were created to entice unnecessary drama. I like the first story, An Appalachian Christmas, until it got to the end of the story. Even though I'm not a fan of short romances, I had grown to like the characters. I found the post WWII storyline very interesting and also how both Julie and David were both veterans of the war. The actual plot of the first story is intriguing until the random ending happens and I just couldn't buy it. This is especially because it undermines the entire relationship of Julie's sister with her in laws and husband. As for the second story, I just never gelled with the characters. The story just happened so incredibly fast that I couldn't buy it. I could not connect with any of the characters and even though this was mainly about old friends finally discovering that they love each other I didn't really feel chemistry between the two of them.
Overall, I didn't find this book to be very Christmas-y at all. The stories take place in two towns that have Christmas-y names but apart from brief mentions there isn't really a lot of holiday spirit. If you do like romance stories, you probably will enjoy this book. It's a good combination of a historical read and a contemporary story combined in one volume which is a good value. I just didn't feel as if it was the right fit for me.
Love Finds You Under the Mistletoe by
Irene Brand
&
Anita Higman
is published by
Summerside Press
(2010)
This review copy was provided for a blog tour with the Christian Fiction Blog Alliance