Book Review: "Divine Appointments" by Charlene Ann Baumbich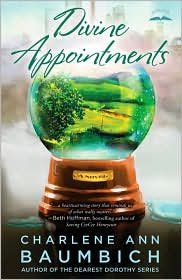 Josie Brooks, at the age of 47, thought she was leading an enviable single life. A successful consultant, she calls her own shots, goes where the money is, and never needs to compromise. But her precisely managed world begins to falter during a Chicago contract when an economic downturn, a bleeding heart boss, and the loyalty and kindness between endangered employees ding her coat of armor.
Throw in hot flashes, a dose of loneliness, a peculiar longing for intimacy, an unquenchable thirst—not to mention a mysterious snowglobe with a serene landscape, complete with a flowing river and lush greenery that seems to be beckoning her in—and Josie's buttoned-up life is on the verge of coming completely undone. Maybe her solitary existence isn't as fulfilling as she has convinced herself to believe.
It will take a few new friends, a mystical encounter, and an unexpected journey to set Josie on her own path to "right-sizing" and making the life changes that really matter. Filled with laugh-out loud moments and a gentle dash of inspiration,
Divine Appointments
is another heartwarming charmer from a master storyteller.
Snowglobes aren't just for Christmas. You can have any scene you want. In this book, instead of a Christmas scenes, a brook with running water is featured. Or is it? I thought the premise of this book was very interesting. The snowglobe plays a prominent yet subtle role in the lives of the characters in the book. The writing is very engaging and I found myself being drawn into the story like the characters found themselves being drawn into the snowglobe.
Josie's job reminded me of the movie Up in the Air, where she had the job of telling people they were fired. Her job involved her doing it in an abrupt, terse manner that left no room for emotions or sympathy. Meanwhile Lyle is oozing with sensitivity and building relationships with the workers. This could have led to a lot of arguments between the two of them but instead there's a strange sort of chemistry. Both of them had very interesting stories and I found myself being intrigued by their family stories as well. The third character involved was Barb and she has an unexpected story line that I did not see coming at all.
The only part I felt was unresolved was Josie's intense thirst. Well, I believe that it was there and was explained but I felt as if I somehow missed it. This is probably my own fault but it just didn't seem all that clear to me. I did however find myself drinking LOTS of water while reading the story! I enjoyed this book very much. To be honest, I liked it a lot more than I did the
first book
in the series. While there are brief mentions of a characters from the first book, this volume can be read as a standalone. There are multiple story lines which might confuse you at first but you soon see that everyone is tied together. It's really interesting to see the different angles of the same situation and see how everything and everyone is connected. This is another good book from Baumbich that features magic realism. I'll be looking forward to reading more books in the series.
Divine Appointments
by
Charlene Ann Baumbich
is published by
Waterbrook
(2010)
This review copy was provided by the author