Book Review: "Lady in Waiting" by Susan Meissner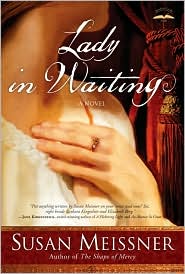 Content in her comfortable marriage of twenty-two years, Jane Lindsay had never expected to watch her husband, rad, pack his belongings and walk out the door of their Manhattan home. But when it happens, she feels powerless to stop him and the course of events that follow Brad's departure.
Jane finds an old ring in a box of relics from a British jumble sale and discovers a Latin inscription in the band along with just one recognizable word: Jane. Feeling an instant connection to the mysterious ring bearing her namesake, Jane begins a journey to learn more about the ring—and perhaps about herself.
~
In the sixteenth-century, Lucy Day becomes the dressmaker to Lady Jane Grey, an innocent young woman whose fate seems to be controlled by a dangerous political and religious climate, one threatening to deny her true love and pursuit of her own interests.
As the stories of both Janes dovetail through the journey of one ring, it becomes clear that each woman has far more influence over her life than she once imagined. It all comes down to the choices each makes despite the realities they face.
There is a reason why I always recommend Susan Meissner's books to people who don't normally read Christian fiction. The reason is because she is a #$*!@ good author! Honestly I have loved every single one of her books. Every time I pick up one of her stories, I KNOW I am going to be in for a good read. I hate when I get about 3/4 of the way through because the story is almost over and I'll have to wait months until the next one. Seriously though, she is one of my top 10 authors overall and almost everyone I've recommended her books to have enjoyed them as well.
This story deals with two women named Jane. The contemporary story focuses on Jane, a woman who works with antiques who suddenly has the rug thrown from under her when her husband decides he wants a separation. The surprise is that Jane doesn't know why he does or what she has done that has made him feel this way. Her story deals with her trying to figure out her life and how she is connected to the woman who owned the ring she found in a book. The second story is told from the view of Lucy, a dressmaker to Lady Jane Grey who is famous for being the Nine Days Queen. Their story imagines what could have possibly been a secret romance to Jane and the heartbreak she might have suffered before fate intervened.
This book gave me a whole new outlook in Jane Grey. I've always felt incredibly sorry for her because she was just a pawn who got sacrificed. This book made me see that even though her circumstances were tough, she could have made a different choice. Yes, she was in a world where she probably would have suffered no matter what she did but maybe things would have ended up differently if she had chosen NOT to go along with the plans everyone had for her. This part of the story seemed very authentic and I felt as I was thrust into 1600s England where you really don't want to be royalty as you will not be allowed to live the life you really want.
The switching between contemporary and historical story lines didn't bother me at all. I found both stories to be equally compelling and full of detail. I will admit since I knew the outcome of what was going to happen to Jane Grey, I was a bit wary of getting to the end of the story. However, since the story is told from Lucy's point of view and not from Jane's it makes the outcome more easier to handle. As for contemporary Jane, I ached for her because personally I didn't blame her for what was happening to her marriage. Yes, there should have been better communication between her and her husband but if she didn't know what was going on, how was she supposed to know what to do? The relationship with her mother was very interesting as I could relate to some of the things she was going through with her.
Overall, I loved this story. It is everything I love in stories combined in one excellently written book. If you have any interest in the Tudors, British history, or just love a good combination of historical and contemporary fiction, this book is perfect for you. I cannot recommend this book highly enough. I just now cannot wait until Meissner's next book comes out...it shall be a long and anxious wait. VERY HIGHLY recommended.
Lady in Waiting by Susan Meissner is published by Waterbrook (2010)
This review copy was provided for a blog tour with FIRST Wild Card Blog Tours
Read the first chapter below

Jane

Upper West Side, Manhattan

ONE

The mantle clock was exquisite even though its hands rested in silence at twenty minutes past two.

Carved—near as I could tell—from a single piece of mahogany, its glimmering patina looked warm to the touch. Rosebuds etched into the swirls of wood grain flanked the sides like two bronzed bridal bouquets. The clock's top was rounded and smooth like the draped head of a Madonna. I ran my palm across the polished surface and it was like touching warm water.

Legend was this clock originally belonged to the young wife of a Southampton doctor and that it stopped keeping time in 1912, the very moment the Titanic sank and its owner became a widow. The grieving woman's only consolation was the clock's apparent prescience of her husband's horrible fate and its kinship with the pain that left her inert in sorrow. She never remarried and she never had the clock fixed.

I bought it sight unseen for my great aunt's antique store, like so many of the items I'd found for the display cases. In the year and half I'd been in charge of the inventory, the best pieces had come from the obscure estate sales that my British friend Emma Downing came upon while tooling around the southeast of England looking for oddities for her costume shop. She found the clock at an estate sale in Felixstowe and the auctioneer, so she told me, had been unimpressed with the clock's sad history. Emma said he'd read the accompanying note about the clock as if reading the rules for rugby.

My mother watched now as I positioned the clock on the lacquered black mantle that rose above a marble fireplace. She held a lead crystal vase of silk daffodils in her hands.

"It should be ticking." She frowned. "People will wonder why it's not ticking." She set the vase down on the hearth and stepped back. Her heels made a clicking sound on the parquet floor beneath our feet. "You know, you probably would've sold it by now if it was working. Did Wilson even look at it? You told me he could fix anything."

I flicked a wisp of fuzz off the clock's face. I hadn't asked the shop's resident and unofficial repairman to fix it. "It wouldn't be the same clock if it was fixed."

"It would be a clock that did what it was supposed to do." My mother leaned in and straightened one of the daffodil blooms.

"This isn't just any clock, Mom." I took a step back too.

My mother folded her arms across the front of her Ann Taylor suit. Pale blue, the color of baby blankets and robins' eggs. Her signature color. "Look, I get all that about the Titanic and the young widow, but you can't prove any of it, Jane," she said. "You could never sell it on that story."

A flicker of sadness wobbled inside me at the thought of parting with the clock. This happens when you work in retail. Sometimes you have a hard time selling what you bought to sell.

"I'm thinking maybe I'll keep it."

"You don't make a profit by hanging onto the inventory." My mother whispered this, but I heard her. She intended for me to hear her. This was her way of saying what she wanted to about her aunt's shop—which she'd inherit when Great Aunt Thea passed—without coming across as interfering.

My mother thinks she tries very hard not to interfere. But it is one of her talents. Interfering when she thinks she's not. It drives my younger sister Leslie nuts.

"Do you want me to take it back to the store?" I asked.

"No! It's perfect for this place. I just wish it were ticking." She nearly pouted.

I reached for the box at my feet that I brought the clock in along with a set of Shakespeare's works, a pair of pewter candlesticks, and a Wedgwood vase. "You could always get a CD of sound effects and run a loop of a ticking clock," I joked.

She turned to me, childlike determination in her eyes. "I wonder how hard it would be to find a CD like that!"

"I was kidding, Mom! Look what you have to work with." I pointed to the simulated stereo system she'd placed into a polished entertainment center behind us. My mother never used real electronics in the houses she staged, although with the clientele she usually worked with—affluent real estate brokers and equally well-off buyers and sellers—she certainly could.

"So I'll bring in a portable player and hide it in the hearth pillows." She shrugged and then turned to the adjoining dining room. A gleaming black dining table had been set with white bone china, pale yellow linen napkins, and mounds of fake chicken salad, mauvey rubber grapes, and plastic croissants and petit fours. An arrangement of pussy willows graced the center of the table. "Do you think the pussy willows are too rustic?" she asked.

She wanted me to say yes so I did.

"I think so, too," she said. "I think we should swap these out for that vase of Gerbera daisies you have on that escritoire in the shop's front window. I don't know what I was thinking when I brought these." She reached for the unlucky pussy willows. "We can put these on the entry table with our business cards."

She turned to me. "You did bring yours this time, didn't you? It's silly for you to go to all this work and then not get any customers out of it." My mother made her way to the entryway with the pussy willows in her hands and intention in her step. I followed her.

This was only the second house I'd helped her stage, and I didn't bring business cards the first time because she hadn't invited me to until we were about to leave. She'd promptly told me then to never go anywhere without business cards. Not even to the ladies room. She'd said it and then waited, like she expected me to take out my BlackBerry and make a note of it.

"I have them right here." I reached into the front pocket of my capris and pulled out a handful of glossy business cards emblazoned with Amsterdam Avenue Antiques and its logo—three As entwined like a Celtic eternity knot. I handed them to her and she placed them in a silver dish next to her own. Sophia Keller Interior Design and Home Staging. The pussy willows actually looked wonderful against the tall jute-colored wall.

"There. That looks better!" she exclaimed as if reading my thoughts. She turned to survey the main floor of the townhouse. The owners had relocated to the Hamptons and were selling off their Manhattan properties to fund a cushy retirement. Half the décor—the books, the vases, the prints—were on loan from Aunt Thea's shop. My mother, who'd been staging real estate for two years, brought me in a few months earlier when she discovered a stately home filled with charming and authentic antiques sold faster than the same home filled with reproductions.

"You and Brad should get out of that teensy apartment on the West Side and buy this place. The owners are practically giving it away."

Her tone suggested she didn't expect me to respond. I easily let the comment evaporate into the sunbeams caressing us. It was a comment for which I had had no response.

My mother's gaze swept across the two large rooms she'd furnished and she frowned when her eyes reached the mantle and the silent clock.

"Well, I'll just have to come back later today," she spoke into the silence. "It's being shown first thing in the morning." She swung back around. "Come on. I'll take you back."

We stepped out into the April sunshine and to her Lexus parked across the street along a line of townhouses just like the one we'd left. As we began to drive away, the stillness in the car thickened, and I fished my cell phone out of my purse to see if I'd missed any calls while we were finishing the house. On the drive over I had a purposeful conversation with Emma about a box of old books she found at a jumble sale in Oxfordshire. That lengthy conversation filled the entire commute from the store on the seven-hundred block of Amsterdam to the townhouse on East Ninth, and I found myself wishing I could somehow repeat that providential circumstance. My mother would ask about Brad if the silence continued. There was no missed call, and I started to probe my brain for something to talk about. I suddenly remembered I hadn't told my mother I'd found a new assistant. I opened my mouth to tell her about Stacy but I was too late.

"So what do you hear from Brad?" she asked cheerfully.

"He's doing fine." The answer flew out of my mouth as if I'd rehearsed it. She looked away from the traffic ahead, blinked at me, and then turned her attention back to the road. A taxi pulled in front of her, and she laid on the horn, pronouncing a curse on all taxi drivers.

"Idiot." She turned to me. "How much longer do you think he will stay in New Hampshire?" Her brow was creased. "You aren't going to try to keep two households going forever, are you?"

I exhaled heavily. "It's a really good job, Mom. And he likes the change of pace and the new responsibilities. It's only been two months."

"Yes, but the inconvenience has to be wearing on you both. It must be quite a hassle maintaining two residences, not to mention the expense, and then all that time away from each other." She paused but only for a moment. "I just don't see why he couldn't have found something similar right here in New York. I mean, don't all big hospitals have the same jobs in radiology? That's what your father told me. And he should know."

"Just because there are similar jobs doesn't mean there are similar vacancies, Mom."

She tapped the steering wheel. "Yes, but your father said . . ."

"I know Dad thinks he might've been able to help Brad find something on Long Island but Brad wanted this job. And no offense, Mom, but the head of environmental services doesn't hire radiologists."

She bristled. I shouldn't have said it. She would repeat that comment to my dad, not to hurt him but to vent her frustration at not having been able to convince me she was right and I was wrong. But it would hurt him anyway.

"I'm sorry, Mom," I added. "Don't tell him I said that, okay? I just really don't want to rehash this again."

But she wasn't done. "Your father has been at that hospital for twenty-seven years. He knows a lot of people." She emphasized the last four words with a pointed stare in my direction.

"I know he does. That's really not what I meant. It's just Brad has always wanted this kind of job. He's working with cancer patients. This really matters to him."

"But the job's in New Hampshire!"

"Well, Connor is in New Hampshire!" It sounded irrelevant even to me to mention the current location of Brad's and my college-age son. Connor had nothing to do with any of this. And he was an hour away from where Brad was anyway.

"And you are here," my mother said evenly. "If Brad wanted out of the city, there are plenty of quieter hospitals right around here. And plenty of sick people for that matter."

There was an undercurrent in her tone, subtle and yet obvious, that assured me we really weren't talking about sick people and hospitals and the miles between Manhattan and Manchester. It was as if she'd guessed what I'd tried to keep from my parents the last eight weeks.

My husband didn't want out of the city.

He just wanted out.