Book Review: "Stray Affections" by Charlene Ann Baumbich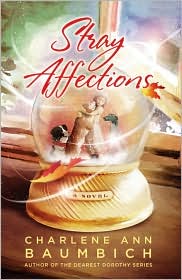 The last thing that Cassandra Higgins expects out of her Sunday is to be mesmerized at a collectors' convention by a snowglobe. She's enjoying some mommy time, with husband Ken at home tending their brood of four young boys, when she's utterly charmed by the one-of-a kind globe containing figures of three dogs and a little girl with hair the color of her own. She can't resist taking the unique globe home– even if means wrestling another shopper for it!
The beautiful snowglobe sparks long-dormant memories for Cassie, of her beloved Grandpa Wonky, the stray she rescued as a child, and the painful roots of her combative relationship with her mother, "Bad Betty" Kamrowski. Life in Wanonishaw, Minnesota is never dull, though, and Cassie keeps the recollections at bay, busy balancing her boys, her home daycare operation, and being a good friend to best pal Margret. But after a strange–
flurrious,
as Cassie deems it–moment happens with the remarkable snowglobe, Cassie and the people she loves are swirled into a tumultuous, yet grace-filled, and life-changing journey.
I love looking at snowglobes. Ever since I was a kid, I loved to turn it upside down to watch the snow fall down and imagine what it would be like to be living in the scenario inside the snow globe. This book was like living in snowglobe. It gave a unique perspective to a centralized group of people as we explored what went on in their lives as they all get shaken up by a single event.
I really liked how different perspectives would be shown throughout the book. For example Cassie and her mom would have a fight and the reader would first see the fight through Cassie's eyes which would cause the reader to sympathize with her. Then in the section, we'd immediately see it from her mother's perspective which gives a whole different spin on the situation. The same would happen with her mother and Burt and it was great to see both sides during the awkward phone conversation. By the way, I really liked Burt's character. I felt so bad for him. Who names their kid Burt Burt??? I'm not sure if durves are actually something or if it was created for the story, but they sound delicious and I'm really glad there's a recipe for them included in the back of the book.
The only qualm I had was that I felt a little lost sometimes in the story. It felt like there was a certain direction the story was going and then the plot kinda died out. The overall story that was there was good, I just felt like there was supposed to be something more but it fizzled instead. However I still enjoyed the story. I felt that there was some magic realism weaved throughout the tale that gave it whimsical feel. It was an enjoying read and made me look forward to the season where we get to see snowglobes be put on display again.
Stray Affections by
Charlene Ann Baumbich
is published by
Waterbrook
(2009)
This review copy was provided by the publisher