Book Review: "Embers of Love" by Tracie Peterson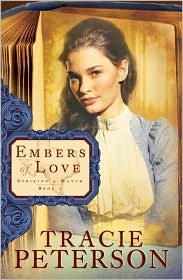 The logging industry in eastern Texas is booming, and Deborah Vandermark plans to assist her family's business now that she's completed college. Unexpectedly, her best friend, Lizzie Decker, accompanies her back home--fleeing a wedding and groom she has no interest in. Deborah, the determined matchmaker, puts her sights on uniting her brother and dear friend in a true love match.
Deborah soon meets Dr. Christopher Clayton, a much-needed addition to the town. As their lives intersect, Deborah realizes that she has a much greater interest in medicine and science than the bookkeeping she was trained in. But when typhoid begins to spread and Lizzie's jilted fiance returns, Deborah wonders if true love can overcome such obstacles...for those dearest to her, and for herself.
Reading this book was a breath of fresh air from Tracie Peterson. I've felt that her last few series haven't been up to par with some of her best works. The last two series, I was a bit disappointed after reading them. However after finishing this book, I have high hopes for this new series. There were many things I liked about it and I hope that they will continue in future books.
The story begins with friends Deborah and Lizzie having finished up their college degrees. That intrigued me from the beginning it's very rare to read historical fiction that involves women finishing their degrees. You read all the time about them starting up their first year but then they usually end up dropping out due to getting married or not being able to put with the pressure. Therefore it was really interesting seeing them after they've gotten their degrees and then figuring out what they are going to do next. The situation involving Lizzie and her fiance/husband is VERY interesting because it involves the case of what is an actual marriage. It might be one of the few Christian books that upholds an annulment.
I don't know if this is a coincidence or if in later books it will play a part, but I found it quite interesting that there are two characters named Deborah and Jael. If you are familiar with the story of Deborah the Judge from the Bible (which I am since I am named after her), then you will know that these are the names of the two women prominent in the story. While I've seen Deborah used every now and then in books, I've never seen Jael used before so it was slightly intriguing for the use of these names.
My only qualm was that I felt the cowboy character was brought in at the last moment to create some romantic tension between Deborah and Dr. Clayton. It just felt completely unnecessary to have him show up in the story and he didn't really add anything to it. Other than this however I really liked this story. The characters seemed real and engaging, almost reminiscent of Peterson's Ladies of Liberty series. I hope to read more about them in future books.
Embers of Love by Tracie Peterson is published by Bethany House (2010)
This review copy was provided for a blog tour with the Christian Fiction Blog Alliance