The Unlikely Disciple by Kevin Roose and Book Giveaway
----------------Contest Closed---------------

I'm giving away

5

brand new copies of today's book! Leave a comment with your email address so I can contact you if you win. I'll pick a name and announce the winners on Thursday April 2
. US and Canada addresses only (No PO Boxes). Good luck!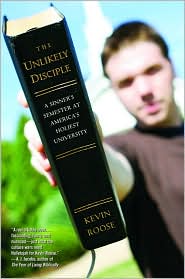 No drinking.
No smoking.
No cursing.
No dancing.
No R-rated movies.
Kevin Roose wasn't used to rules like these. As a sophomore at Brown University, he spent his days drinking fair-trade coffee, singing in an a cappella group, and fitting right in with Brown's free-spirited, ultra-liberal student body. But when Roose leaves his Ivy League confines to spend a semester at Liberty University, a conservative Baptist school in Lynchburg, Virginia, obedience is no longer optional.
Liberty is the late Reverend Jerry Falwell's "Bible Boot Camp" for young evangelicals, his training ground for the next generation of America's Religious Right. Liberty's ten thousand undergraduates take courses like Evangelism 101, hear from guest speakers like Sean Hannity and Karl Rove, and follow a forty-six-page code of conduct that regulates every aspect of their social lives. Hoping to connect with his evangelical peers, Roose decides to enroll at Liberty as a new transfer student, leaping across the God Divide and chronicling his adventures in this daring report from the front lines of America's culture war.
His journey takes him from an evangelical hip-hop concert to choir practice at Falwell's legendary Thomas Road Baptist Church. He experiments with prayer, participates in a spring break mission trip to Daytona Beach (where he learns to preach the gospel to partying coeds), and pays a visit to Every Man's Battle, an on-campus support group for chronic masturbators. He meets pastors' kids, closet doubters, Christian rebels, and conducts what would be the last print interview of Rev. Falwell's life.
Hilarious and heartwarming, respectful and thought-provoking, The Unlikely Disciple will inspire and entertain believers and nonbelievers alike.
Kevin Roose
was born in 1987 in small-town Ohio. His parents, staunch left-wing activists who once worked for Ralph Nader, raised him with almost no religious background, even though they were technically Quakers (a liberal Christian sect also known as the Religious Society of Friends). His Quakerism contributed very little to his spiritual development, and mostly meant that he spent his childhood fielding questions about oatmeal.
Before becoming an author, Roose held down various part-time jobs, including working as a tennis camp counselor, a juice bar barista, and a biblical slave (long story). During his sophomore year at Brown University, he stumbled upon a group of students from Liberty University, the late Reverend Jerry Falwell's "Bible Boot Camp" for young evangelicals.
Inspired by that meeting, he decided to leave Brown and spend a semester "abroad" at Liberty, learning about his Christian peers by living among them. While at Liberty, he took Bible courses, sang in the church choir, went on Christian dates, experimented with prayer, interviewed Rev. Falwell for the campus newspaper, and chronicled his experiences in THE UNLIKELY DISCIPLE: A Sinner's Semester at America's Holiest University.
Since returning to Brown, Roose has continued writing for national publications like Esquire, SPIN, and mental_floss, on topics as wide-ranging as barbershop quartets, professional magicians, and cell-phone ringtones. He is a staff writer for the College Hill Independent, a regular columnist for the Brown Daily Herald, and a Rose Writing Fellow. In 2008, he was given a Royce Fellowship for his journalism, and barring an act of God, he will graduate from Brown in 2009 with an English degree. He lives in a dorm room in Providence, Rhode Island, with three suitemates and a Pulp Fiction poster on the wall.