Book Review: "An Uncertain Dream" by Judith Miller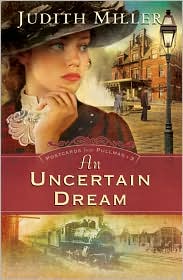 A Good Look at a Forgotten Time
Olivia Mott is torn between her job and the love of her life. The town of Pullman has been split in two as workers are holding a strike as they protest their wages being lowered even while everything else has stayed the same price. Olivia is trying to maintain her job as a chef for Pullman while her fiance Fred has joined the strike. The two must try to keep the politics out of their relationship if they are going to be able to succeed at being together. Meanwhile Olivia's former employer Lady Charlotte Spencer has returned from England with her son, determined to make a new life for herself. With a new attitude in tow, she sets out to make a fresh start for herself and her son. However when Matthew Clayborn, an investigative reporter starts showing interest in her, will she turn back to her old ways?
I really like this series because it takes a period in American history that isn't normally studied in class and brings it to life. The story about the town of Pullman is absolutely fascinating and the lives of the people are fleshed out into real characters.
I really like in this story how Charlotte comes full circle from the snobby, bratty and immature girl from the first book. She's grown up and has learned to take responsibility for her actions. She is a completely different person from the girl at the beginning of the series and it shows throughout the book in her relationships with her friends, her customers and the men she meets. Olivia's story is always the heart of this series and I l

ove reading about her job as a chef.
Her relationship with Fred drives me nuts at times because Fred is overly jealous. Sometimes I wish to smack him on the head because he cannot believe that Olivia doesn't like anyone else but him. Still though it was very interesting to see how he handled being involved with the strike and maintaining his relationship with Olivia at the same time.


I also enjoyed the storyline with Fred's mother and Olivia's boss. Very cute and I was glad to see Mrs. Devault hold

her own against her son. I really like the setting of these books in the town of Pullman. This a time period where the majority of people don't know that much about its history. It's actually quite interesting because I'm learning about this era in my history classes and we discussed Pullman. Judith Miller has done excellent research into recreating the town and the strike that happened was very well portrayed. My only complaint is that the story ends rather abruptly. If this is the end of the series, it doesn't really leave me satisfied. I would have liked at least one more book to tie up all the story lines. Yes people end up together or hint at getting together, but there's talk about starting the characters going in new directions so I would have liked to see more of this getting accomplished. All in all though, this is a wonderful historical novel, introducing readers to a time period that should be talked about more often.


An Uncertain Dream
by
Judith Miller
is published by
Bethany House
(2008)