Book Review: "Throw Out Fifty Things" by Gail Blanke and Book Giveaway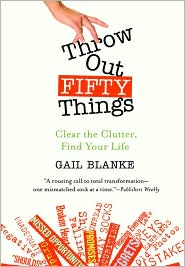 I'm giving away

5

brand new copies of today's book! Leave a comment with your email address so I can contact you if you win. I'll pick a name and announce the winners on Sunday March 8. US and Canada addresses only (No PO Boxes). Good luck!
"Our lives are so filled with junk from the past-from dried up tubes of glue to old grudges-that it's a wonder we can get up in the morning," exclaims motivator, best-selling author, columnist, and life coach Gail Blanke.
"If you want to grow, you gotta let go," is Blanke's mantra; and that means eliminating all the clutter-physical and emotional-that holds you back, weighs you down, or just makes you feel bad about yourself.
In THROW OUT FIFTY THINGS she takes us through each room of the house-from the attic to the garage-and even to the far reaches of our minds. Through poignant and humorous stories, she inspires us to get rid of the "life plaque" we've allowed to build-up there.
Those old regrets? Throw 'em out!

That make-up from your "old" look? Toss it!

That relationship that depresses you? Dump it!

Once you've hit fifty-you'll be surprised how easy it is to get there-and once you've thrown out that too-tight belt and too-small view of yourself, you'll be ready to step out into the clearing and into the next, and greatest, segment of your life.
If you ever come to visit me unannounced, your reaction would be "OMG packrat!" Because yes, I am that type of person that can't bear to throw things away. I could keep receipts because I like looking to see things I had purchased from back in the day. I would clean out this big cabinet under my desk once a year, and there are still tons of papers and binders left over from high school days (you never know when you'll need Algebra notes you know?) So this book was definiately something that I needed to read! It's a really great book as it tackles both the physical and psychological problem as to why we tend to keep things forever. The book starts off with the physical things that need to be cleared up. Each room in the house is taken into consideration with the author telling what she threw away and the reader has the same opportunity to write down their clutter finds as well. Then the book moves onto the mental issues we need to get rid of. And boy were there some good ones! A lot of the reasons why we're so down on ourselves or can't seem to keep up with everything is because we have so much clutter in our heads! The final section ties everything together as now that you've gotten rid of all the physical and excess clutter you can finally begin to really live your life. I really enjoyed reading this book. There's lots of great stand out tips throughout the book and the resource guide at the end is really handy. It's another book everyone should have in their house but not one of those you should be throwing out!
Throw Out Fifty Things by Gail Blanke is published by Springboard Press (2009)