Book Review: "North of Beautiful" by Justina Chen Headley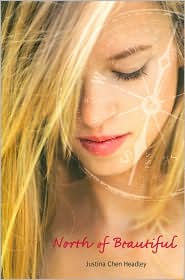 *Although the books I review on my blog are almost always Christian fiction, there will be a few spotlighted regular fiction titles I will review from time to time.*
It's hard not to notice Terra Cooper.
She's tall, blond, and has an enviable body. But with one turn of her cheek, all people notice is her unmistakably "flawed" face. Terra secretly plans to leave her stifling small town in the Northwest and escape to an East Coast college, but gets pushed off-course by her controlling father. When an unexpected collision puts Terra directly in Jacob's path, the handsome but quirky Goth boy immediately challenges her assumptions about herself and her life, and she is forced in yet another direction. With her carefully laid plans disrupted, will Terra be able to find her true path?
Written in lively, artful prose, award-winning author Justina Chen Headley has woven together a powerful novel about a fractured family, falling in love, travel, and the meaning of true beauty.
The first thing that came to mind after I finished this book was, Wow why haven't I read any books by this author before? This story was such a wonderful read that I couldn't stop once I got started. It wasn't just a YA novel, it was a story that anyone could read, enjoy, and learn from. Terra is a character that will stay with you forever. You felt her pain, as she has to live with this mark on her face, and how she tries to hide it in the beginning to the point where no one knows about it anymore except her and her family. Her struggle with accepting herself is the basis of the book, and the reader is taken along for the heart wrenching yet soul finding ride. Her mother's story is equally as powerful as Terra watches her mother break out of the shell created by Terra's father. Oh man, I really hated Terra's father. Seriously, while I was reading this book I was hoping that he would be killed or something equally as horrible by the end of the book. It's one of the few times where I have felt so strongly against a character. Any kind of abuse is horrible but verbal abuse can be even more painful than physical. There are no bruises or broken bones, but your spirit and soul can be destroyed by words even more than fists. He had to go down as one of the most hated characters for me ever.
I really enjoyed all the geography bits and the geocaching scenes throughout the book. My fiance is a geographical analyst, so all this stuff is right up his alley. I also loved the scenes in China as I would love to visit the country one day. But as like Jacob, I would probably get the same reactions he received, where people assumed he was the one who spoke the language simply because he looked like everyone else. The descriptions of the city made me feel like I was really there. The scene that stuck out to me the most was when Terra meets the little girl at the orphanage. It honestly made me want to cry and when you read it, you might feel the same way too.
Another thing that struck me about this book was that this was one of the very few times I have seen a book that has a relationship between a Caucasian girl and an Asian guy. Even more astounding was that the Asian guy was NOT the normal stereotype of an engineer or a doctor or one with aspirations to be one of the two. Yes he was adopted but he was just a regular normal teenage guy who happened to be Asian. It's very rare to read about this in a book, as it's not the norm even in real life. I was very glad to see the stereotype be broken though.

I'm going to have to go back and read the rest of Justina's books now after reading this one. This one was a joy to read and honestly one of the best YA books I've ever read. Such a poignant and beautiful story. HIGHLY recommended.
North of Beautiful
by Justina Chen Headley is published by Little Brown Young Readers (2009)