Spring Reading Thing 2009
FINISHED!!!!!!!!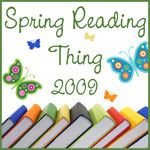 Well it's that time of the year again! Katrina at
Callapidder

Days
is issuing out the command to get our reading lists out and done!
I started these twice-yearly challenges because I thought it would be fun to share my love of reading with other bloggers and to push myself to read some books I might not otherwise read, or to finish some books I had started and then abandoned & stashed under my bed. I thought there were probably others out there who would appreciate the accountability and encouragement that a challenge can provide. And along the way, I discovered there were lots of people who — whether they needed the extra push or not — loved to share what they planned or hoped to read during the upcoming months.

So that's the point of the Spring Reading Thing: sharing some reading goals with all the other participants and doing it in a way that works for you. If you want to push yourself, go for it! Or if you just want to share what you're hoping to get around to reading before June, that works too. The most important thing is to read this spring, to enjoy it, and to share that enjoyment with others.
So without further adieu is here is my list for the challenge! . Note: These are all my library books, which means these MUST be read by the end of the challenge or face the wrath of fines! I haven't listed books I own because I don't know if I'll get around to them, but they might pop up at the end of the challenge on my list.
Christian Fiction

Vendetta by Roxanne Rustand
Yuletide Stalker by Irene Brand
Bayou Justice by Robin Carroll
A Murder Among Friends by Ramona Richards
So Dark the Night by Margaret Daley
Dangerous Game by Lyn Cote
Vanished by Margaret Daley
Where Truth Lies by Lyn Bulock
Glory Be by Ron & Janet Benrey
Valley of Shadows by Shirlee McCoy

Dangerous Secrets by Lyn Cote
From the Ashes by Sharon Mignerey
The Price of Redemption by Pamela Tracy
Stranger in the Shadows by Shirlee McCoy
Cradle of Secrets by Lisa Mondello
A Christmas to Die For by Marta Perry
Hidden in the Wall by Valerie Hansen
Don't Look Back by Margaret Daley
MIA: Missing in Atlanta by Debby Giusti
In His Sights by Carol Steward
Hidden Motive by Hannah Alexander
Lakeview Protector by Shirlee McCoy
Bayou Judgement by Robin Carroll
Final Justice by Marta Perry
To Trust a Friend by Lynn Bulock
The Bunko Babes by Leah Starr Baker
Take One by Karen Kingsbury
Song of Erin by BJ Hoff (this was really 2 books- Cloth of Heaven & Ashes and Lace)

YA Fiction

PS I Loathe You by Lisi Harrison
Secrets of My Hollywood Life by Jen Calonita
Viva Vermont by Melody Carlson
Worst Enemies/Best Friends by Annie Bryant

32 books! This will be great for my other challen

ges as well. I'll be lucky to get 10 extra books read as well with all the other stuff I've got going in my life.

Last spring I read 62 books, I'm counting on a lower number this time around. But as always, we shall see!