Book Review: "Michal"by Jill Eileen Smith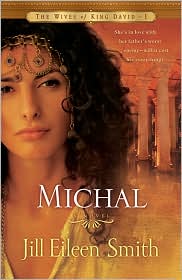 Being a Princess isn't Always so Glamorous


As the daughter of King Saul, Michal lives a life of privilege--but one that is haunted by her father's unpredictable moods and by competition from her beautiful older sister. When Michal falls for young David, the harpist who plays to calm her father, she has no idea what romance, adventures, and heartache await her. As readers enter the colorful and unpredictable worlds of King Saul and King David, they will be swept up in this exciting and romantic story. Against the backdrop of opulent palace life, raging war, and desert escapes, Jill Eileen Smith takes her readers on an emotional roller-coaster ride as Michal deals with love, loss, and personal transformation as one of the wives of David. A sweeping tale of passion and drama, readers will love this amazing story.
This is a story I've been waiting a VERY long time to read. Michal is a character in the Bible that I've been wanting to read more of her story. First off, I love her name, it's very unique and really pretty. Second, I always love reading more about women from the Bible, as their stories are often told in a just a few lines. Most people don't even know that Michal existed. This book will help you to have a better grasp and understand of the story. Reading the book was a quick read as I was enthralled with the story from the beginning. It sounds like Saul had not only a power trip, but depression or was bipolar from all his mood changes and attempts to kill people. I found the scene with the bloody foreskins quite interesting to say the least! It's funny how many times I've read that in the Bible and just didn't think too much about it. However when it's described in vivid detail, you definitely won't get it out of your mind!

After finishing the book, I have a better respect and understanding of Michal. Her story really is the classic princess story that unfortunately has an unhappy ending. I think that maybe, we've put David too high on a pedestal. I mean, growing up in Sunday school we were taught about what a righteous and God fearing king he was and that his only blip was the Bathsheba situation. We never think about the other side of the story. It really bugged me that he had the audacity to get mad at Michal for "not waiting for him" when he went off and married other women! It wasn't even her fault that she married someone else, it was because of David that her father made her marry another man! Then she had to give up her life with the man she had a marriage with because David decides he wants to bring back another wife into his harem. But then he doesn't do anything for her! By the time the dancing in the street scene happens, Michal has every right to be angry with David and I don't blame her one bit. Of course we know the moral of the story is obedience to God which must be followed. But honestly, I felt that Michal was totally in the right!


The only real qualm I had with the book was that sometimes I felt that the story was a little rushed. You'd be reading and then the next chapter would say 2 years later, and then the next chapter would take place 4 years later. I would have liked a longer story in each time period instead of feeling like I was jumping around through time. Other than that, this is an absolute gem of a story and a wonderful addition to the Biblical fiction genre. Jill Eileen Smith has done her research and brought to life a minor yet important character from the Bible. This is an excellent debut novel and I eagerly await her next book in the series. If you are a fan of Biblical fiction and especially of learning about women from the Bible, you will love this book. HIGHLY recommended.


Michal by Jill Eileen Smith is published by Revell (2009)