Book Review: "Secrets of My Hollywood Life: Family Affairs" by Jen Calonita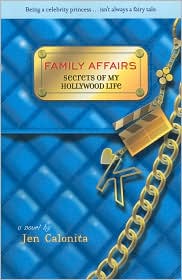 *Although the books I review on my blog are almost always Christian fiction, there will be a few spotlighted regular fiction titles I will review from time to time.*

The filming for sure-to-be-blockbuster movie
Pretty Young Assassins
has wrapped, and teen movie star Kaitlin Burke returns to life on the set of primetime drama
Family Affair.
After ten seasons of filming the hit favorite TV show, Kaitlin would have thought that she could see any curveballs coming, but with a plotting new actress on set, all bets are off. The new diva, Alexis, makes even Kaitlin's long-time nemesis Skye seem like a puppy in comparison. Can Kaitlin keep her sane boyfriend, her insane job,
and
her composure in the face of this new star power?
Like stories such as X2: X-Men United, sometimes the bad and good guys must come together to defeat a greater evil. They have to put aside their differences for a time and join forces. They may go back to their old ways after the battle is over, but for a brief time they can consider themselves comrades. Such is the premise of the third book in the Secrets of My Hollywood Life series. This was probably my favorite book in the series. I love how Skye and Kaitlin put aside their rivalry and join together to defeat Alexis. The duo end up realizing that they can bear to be together and find themselves defending each other in tough situations. Alexis is the character you love to hate. She puts on a innocent and cute face in front of all the TV execs and media, but inside she conniving and spiteful. She's a newcomer to the Hollywood life, an unknown who got "discovered" but she wants to break out and become a huge star. She will do anything to achieve it even if it means bringing down powerhouses like Skye and Kaitlin.
What I think is sad, is that if she had tried to truly befriend them, she probably would have had a better chance of succeeding.
It's also fun seeing Kaitlin try to live a normal life with her friends and boyfriend. Loved seeing her try to get her driver's license. It's interesting to think that someone in Hollywood might not ever need to know how to drive, if they have a chauffeur waiting on them on all the time. I'm glad that her and Austin are still doing good. And still geeked that they are still Star Wars fans!
Like the first two books in the series, this book is packed with tons of Hollywood insider information that helps the reader to understand the industry be

tter. The reader really gets to see what it's like to film a TV show (Family Affairs sounds like a nigh time soap) and also the workings of the paparazzi. There is also again nothing offensive in the book at all. It's such a delight to read a YA book that doesn't include teen drinking, sex or language especially since it

involves celebrities and the Hollywood lifestyle. Jen Calonita has written another winner and I can't wait to read what's up next for Kaitlin and her Hollywood life. HIGHLY recommended.

Secrets of My Hollywood Life: Family Affairs
by Jen Calonita is published by Little Brown Young Readers (2008)