Book Review: "Before the Season Ends" by Linore Rose Burkard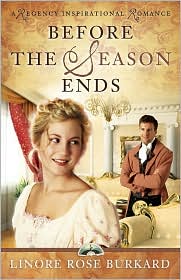 The Next Best Thing to a New Jane Austen Novel!
In her debut novel of what she calls "spirited romance for the Jane Austen soul," author Linore Rose Burkard tells the intriguing story of Miss Ariana Forsythe, a young woman caught between her love for a man who doesn't share her faith and her resolution to marry only a fellow believer in Christ.
Trouble at home sends the young woman to her aunt's townhome in the fashionable Mayfair district of London. There she finds worse troubles than those that prompted her flight from home. Ariana is soon neck–deep in high society and at odds with Mr. Phillip Mornay, London's current darling rogue. Then a scandal changes Ariana forever. Her heart, her faith, and her future are all at stake in an unexpected adventure that gains even the Prince Regent's attention.
Will Ariana's faith survive this test? And what about her heart? For it's Ariana's heart that most threatens to betray the truths she has always believed in. When she finds herself backed against a wall, betrothed to the wrong young man, how can it ever turn out right? Jane Austen readers and fans of Regency romances everywhere will love Before the Season Ends.
I have been in a Jane Austen sort of mood lately. I'm currently listening to Pride and Prejudice in my car, have been watching several of the movies on DVD and the soundtrack to P&P (2005) is going to be played in the prelude at my wedding. So this book fits perfectly with the way my mood has been. This book is written perfectly in the Regency tone of voice and style. I loved Ariana's character. It was fun to read about her stepping into high society at the benefit of a rich old aunt. The chemistry she had with Phillip was wonderful and very believable. It's very easy to swoon while reading this book. You wish you could live like this all the time! All the details in the book are wonderful, the description of the places and the clothes really make the story come to life. I enjoyed reading about the fashion and all the little customs of the time period. I even like the part where it's explained how Ariana could not be called by her first name in society because her older sister had not been married yet. I wish that happened today! The scene involving Ariana being stuck in a tree was my favorite. It was like something really out of a Jane Austen novel and I could picture it in a movie coming to life. Very funny and great way to make the characters interact with each other. Since this is a Regency Inspirational Romance, there is talk about religion and Christianity in the book but it's not preachy. Yes they are key elements to the story but even if they are not something that you agree with, honestly the setting and tone of writing are the main focus of the book.
My only qualm is that there is a nice guy who gets hurt and gets no condolence. I always feel bad when the nice guy loses! However this book was a gem to read. I could practically see myself wearing the empire dresses and listening to classical music during the book. I have expected Darcy or Edward Ferras to pop up and make cameos! This is a wonderful time in British history and one I wish I could go back in time to visit. I am looking forward to reading the rest of Ariana and Phillip's adventures. If you are a Regency fan, you will adore this book!
Before the Season Ends by Linore Rose Burkard is published by Harvest House (2008)