Book Review: "Secrets of My Hollywood Life On Location" by Jen Calonita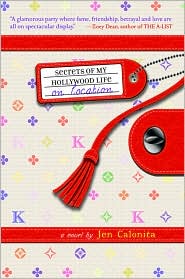 It seems like the summer of dreams come true for Hollywood celebrity princess Kaitlin Burke: the media loves her (again), super-cute and funny Austin Meyers is finally her boyfriend, and she's starring in a blockbuster movie by her all-time favorite director Hutch Adams. What could be sweeter? But life on set is not nearly as perfect as the designer makeup and couture costumes. And with a slimy ex-boyfriend and a scheming new publicist on the scene, it's about to get a whole lot messier....
This book truly made me feel like a Hollywood insider.
Kaitlin is the type of actress I would want to be. A normal fun girl who also happens to live a glamorous life. I loved all her tips and secrets of the Hollywood world. It brings everything into a whole new light now about the industry. While there are things are truly glamorous and wonderful, there's also a lot of hard work, fakery and deceit to get ahead. It's sad that she doesn't have the normal relationship with her parents as they keep pushing to keep her stardom afloat with little thought for her own feelings. I'm glad that she has her friends and Nadine to keep her sane. Her rivalry with Skye was fun to read as while they bickered and plotted against each other, it wasn't so extreme that you hated Skye. The behind the scenes details of what goes on in movie making is fascinating as well. It makes me wonder if everything we see on TV and magazines is really true about celebrities or just the work of overwork publicists with hyper-imaginations.
I love the fact that Kaitlin is a Star Wars geek! As a big fan myself, it's always nice to see that a girl can be a fan and not be dorky. Plus she's a real fan and actually knows her movies, characters and Star Wars speak. She's so lucky also to have found a guy who's a fan as well. I love her and Austin's screen names! Another highlight of the book is that
there is no annoying teen slang.
This is a major problem I have found in other YA books. It also seems like the author is either trying to invent what they think is teen language or seems to have found the one group in the entire country that speaks that way. It always takes away from the story because you have to stop and decipher what in the world they are talking about. The characters in this book may be from Southern California, be rich kids and celebrities but they talk just like everyone else which makes the reading flow smoothly.
I think the greatest appeal of this book is that Kaitlin acts like a normal teen who just happens to also be a famous celebrity. She usually doesn't use her celebrity status to get her things and longs for a normal life.
There is no sex, no offensive language, and no drinking. Really Kaitlin is one of the best characters I've ever read in a YA book. Lindsay Lohan needs to take lessons from her! Honestly this is probably my favorite general YA series to read. It trumps Gossip Girl by a landslide! This book is really a fun read. If you are into celebrities and love YA book, this is perfect for you. HIGHLY recommended.
Secrets of My Hollywood Life On Location
by Jen Calonita is published by Little Brown Young Readers (2007)