Asian American Authors
Well since this is a book blog, you knew this was coming! Here are some well known Asian American authors. Who are some of your favorites? (don't forget they must be Asian AMERICAN authors)


Source: Infoplease and websites



Amy Tan
, the daughter of Chinese immigrants, she has taken for her theme the lives of Asian-Americans and the generational and cultural differences among them, concentrating on women's experiences. Tan's novels include
The Joy Luck Club
(1989),
The Kitchen God's Wife
(1991),
The Hundred Secret Senses
(1995),
The Bonesetter's Daughter
(2001), and
Saving Fish from Drowning
(2005). She has also written a children's book,
The Moon Lady
(1992), and essays, e.g., the autobiographical pieces collected in
The Opposite of Fate
(2003).
Lisa See
is the author of the non-fiction family history
On Gold Mountain: The One Hundred Year Odyssey of My Chinese-American Family
and the novel
Snow Flower and the Secret Fan
. See, who is one-eighth Chinese, grew up in Los Angeles surrounded by her Chinese-American family. After an early career writing for
Publishers Weekly
and other magazines, See published her first book,
On Gold Mountain
, in 1995. The story is a sweeping account of her father's side of the family as it moved from China to southern California. The book was a success, and See followed up with three mystery novels set in China:
Flower Net
(1997),
The Interior
(1999) and
Dragon Bones
(2003).
Her fourth novel was the critically acclaimed bestseller
Snow Flower and the Secret Fan
(2005), the story of two women in 19th century China who communicate through a secret written language called "nu shu." See, the daughter of novelist Carolyn See, is also active in the cultural affairs of the Los Angeles Chinese-American community.
Jhumpa Lahiri
grew up in Rhode Island, the daughter of parents who emigrated from India. She graduated from Boston University with graduate degrees in English, creative writing, and comparative literature. While completing her Ph.D. in renaissance studies, Lahiri realized her desire to write eclipsed her ambitions to be a scholar. A major fellowship to the Fine Arts Work Center in Provincetown proved life changing, and helped her to secure an agent, a book deal, and her first published story in
The New Yorker
. In 2000, Lahiri became the youngest recipient in the history of the Pulitzer Prizes to receive the award in fiction for her first collection of stories,
Interpreter of Maladies
(1999). Her first novel,
The Namesake,
was published in 2003.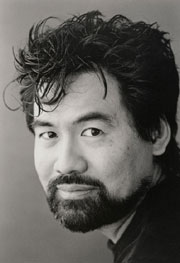 The eldest of three children, David Henry Hwang was born to parents of Chinese heritage. He graduated from Stanford University in 1979 and taught high school before enrolling in the Yale School of Drama in 1980. An early play,
F.O.B.
(an acronym for "fresh off the boat"), garnered the support of Hwang's businessman father, and was eventually produced at the National Playwrights Conference in 1979. The next year, it was produced at the New York Shakespeare Festival's Public Theater, winning an Obie award for best new play of the season. His breakthrough play,
M. Butterfly
—a complicated story of espionage and mistaken sexual identity—received a Tony Award in 1988 and a Pulitzer Prize in 1989. He has also received grants from the Guggenheim Foundation and the National Endowment for the Arts. Other plays include
The Dance and the Railroad
and
Family Devotions
(1981),
Sound and the Beauty
(1983),
Rich Relations
(1986),
Face Value
(1993), and the critically acclaimed
Buried Child,
which opened on Broadway in 1998. He has also written screenplays for a number of films including
M. Butterfly
(1993),
Golden Gate
(1994), and
Possession
(2002). He penned the book for the 2006 Disney Broadway musical
Tarzan
(music and lyrics by Phil Collins).
Deepak Chopra
is a best-selling author who abandoned his profession as an endocrinologist and adopted the alternative healing method called Maharishi Ayur-Veda, which involves herbal remedies, meditation, massage and yoga. His books include
Ageless Body, Timeless Mind
(1993) and
The Seven Spiritual Laws of Success
(1995).
Chinese-American writer
Laurence Yep is the author of
Dragonwings
(1975),
Child of the Owl
(1977) and dozens of other books for young readers. Yep studied at Marquette University and earned an undergraduate degree from the University of California Santa Cruz (1970) before getting a doctorate in English from the University of New York at Buffalo in 1975. The same year he published
Dragonwings
, a touching turn-of-the-century tale that mixed flying machines, the Chinese immigrant experience, and the San Francisco earthquake of 1906. The book was named a Newbery Medal Honor Book and was the first of what became the Golden Mountain Chronicles -- nine books by Yep about Chinese immigrants in California. Yep has also written fantasy (including the
Tiger's Apprentice
series) and science fiction, and has dabbled in other genres with books like the historical mystery
The Mark Twain Murders
(1982).
Tosca Lee
is the author of the critically acclaimed
Demon: A Memoir
(2007), a ForeWord Magazine Book of the Year Silver Award winner, American Christian Fiction Writers Book of the Year nominee, and Christy award finalist. Her eagerly-awaited second novel,
Havah: The Story of Eve
, released October 2008 to high praise, including a starred review from Publishers Weekly.
A sought-after speaker and first runner-up to Mrs. United States 1998, Tosca works as a Senior Consultant for the Gallup Organization. She received her B.A. in English and International Relations from Smith College in Northampton, Massachusetts. She also studied at Oxford University.
In her spare time, Tosca enjoys travel, cooking, history and theology. She currently resides in Nebraska.
Camy Tang
is a member of FIRST and is a loud Asian chick who writes loud Asian chick-lit. She grew up in Hawaii, but now lives in San Jose, California, with her engineer husband and rambunctious poi-dog. In a previous life she was a biologist researcher, but these days she is surgically attached to her computer, writing full-time. In her spare time, she is a staff worker for her church youth group, and she leads one of the worship teams for Sunday service.
Sushi for One? (Sushi Series, Book One)
was her first novel. Her second,
Only Uni (Sushi Series, Book Two)
is now available. The next book in the series,
Single Sashimi (Sushi Series, Book Three)
came in September 2008.