Book Review: "Nothing But Trouble" by Susan May Warren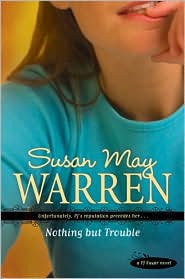 It's not fair to say that trouble happens every time PJ Sugar is around, but it feels that way when she returns to her hometown, looking for a fresh start. Within a week, her former teacher is murdered and her best friend's husband is arrested as the number-one suspect. Although the police detective investigating the murder--who also happens to be PJ's former flame--is convinced it's an open-and-shut case, PJ's not so sure. She begins digging for clues in an effort to clear her friend's husband and ends up reigniting old passions, uncovering an international conspiracy, and solving a murder along the way. She also discovers that maybe God can use a woman who never seems to get it right.
PJ Sugar is someone I could totally see myself being friends with. She sounds and acts just like I do. I enjoyed reading about PJ's attempted to be an undercover PI. Her disguises were hilarious especially when she stole the lawn care truck. The situation with the goat had me cracking up. The mystery seemed to take a backseat to her story about refinding herself, and her relationships with Davy, her mother and Boone. It was a good mystery, but I felt the real story was more about PJ. Her relationship with her mother was uneven throughout the story. One minute her mother can't stand her, the next she's gushing with pride about PJ. It's an issue worth exploring in more books. I really did not like the school PJ's sisters was sending her son to. The library's privacy act was ridiculous. I could understand if this involved an adult or even a teenager but that was about a 4 year old! PJ was right in questioning how in the world she would find the book if she didn't know the title. I hope her sister changes her mind about still wanting to send him there. I'm not sure which guy I want PJ to end up with. On one hand she has a history with Boone. On the other hand she has great chemistry and a possible job with Jeremy. I can't decide now, will need more books to

make decision! We also have discovered what PJ stands for. I'm itching to know. Susan has written another book that is tons of fun to read. Looking forward to reading more of PJ's adventures!
Nothing But Trouble
by
Susan May Warren
is published by
Tyndale
(2009)
Read the first chapter:
http://gotsugar.susanmaywarren.com/
Susan May Warren

is the award-winning author of seventeen novels and novel

las with Tyndale, Steeple Hill and Barbour Publishing. Her first book, Happily Ever After won the American Fiction Christian Writers Book of the Year in 2003, and was a 2003 Christy Award finalist. In Sheep's Clothing, a thriller set in Russia, was a 2006 Christy Award finalist and won the 2006 Inspirational Reader's Choice award. A former missionary to Russia, Susan May Warren now writes Suspense/Romance and Chick Lit full time from her home in northern Minnesota.