Book Review and Giveaway: "Mating Rituals of the North American Wasp" by Lauren Lipton
-------------------Contest Closed----------------------------

I'm giving away

5

brand new copies of today's book! Leave a comment with your email address so I can contact you if you win. I'll
pick a name and announce the winners on Wednesday June 3
. US and Canada addresses only (No PO Boxes). Good luck!
PLEASE LEAVE A WAY FO
R
ME TO CONTACT YOU!!!!
ENTRIES WITHOUT CONTACT
INFO WILL NOT BE ENTERED.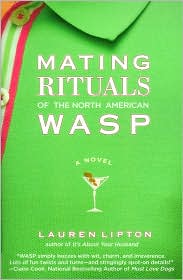 After arguing with her live-in boyfriend about his inability to commit, Peggy Adams flies to a friend's bachelorette party in Las Vegas, and wakes up next to a man she can't remember. Hung-over and miserable, she sneaks out of the sleeping man's hotel room and returns home to New York, where her boyfriend apologizes for the fight and gives her a Tiffany box containing a pre-engagement ring. Not what she expected, but close enough! The next day she receives a phone call from the Las Vegas one-night stand, Luke, claiming she's already married to him¬-and he faxes her the license for proof! Both are ready for an annulment, until Peggy arrives in quaint New Nineveh, CT, where Luke cares for his Great Aunt, and the old woman makes Peggy an offer she can't refuse.
This was one of the most enjoyable mainstream chick lit books I've read in a while. The story is engaging, the characters likable, the situation familiar but not cliched. It's one of those books where you know what's going to happen at the end but you still enjoy the ride getting there. I am glad that I was not raised the way Luke had been. There's no way I could stand to live with all those unspoken rules and the expectation of having the feeling that you are better than everyone else. Seriously I just wanted to slap some of those people and knock some sense into them. I was glad that Peggy was able to find friends she could confide in while living in her new setting. These friends accepted her even though they didn't know her true story. Tiffany was a great help to her. The chemistry between Peggy and Luke is wonderful and it's funny how they are legally husband and wife yet all this tension between them spices everything up. I wasn't too big a fan of Peggy's ex boyfriend, personally I thought he was a jerk and should have been dumped long long ago.
My only qualm was that I felt that Peggy's name was totally wrong for her. It is a very old fashioned name and seemed out of place in a chick lit novel. I just didn't think a 30 something would have kept the name Peggy throughout her life, especially if she lived in New York City. Other than that I totally loved this book. For the most part, it's quite a clean book. There's no harsh language or descriptive sex (ironically the sex is between husband and wife) It makes for a a fun read on a lazy Saturday afternoon. Also I'm totally digging Grand Central's 5 Spot chick lit line. I'm going to have go now find every book on their back list and read them!
Mating Rituals of the North American Wasp by
Lauren Lipton
is published by 5 Spot (2009)
Lauren Lipton is the author of two novels, It's About Your Husband (2006) and Mating Rituals of the North American WASP (2009). She is also a freelance journalist who specializes in style, business and trend stories.
She is currently fashion, beauty and lifestyle editor at ForbesWoman magazine. She has also contributed features on society and media to the New York Times Sunday Styles section. A former Wall Street Journal staff writer, she reported on copycat brides who steal their friends' wedding ideas, pajama parties for grown women, and luxury homes with his-and-hers garages.
Her work also has appeared in Conde Nast Portfolio, In Style Weddings, Martha Stewart Weddings, Best Life, Glamour, Marie Claire, Fit Pregnancy and Working Mother, and on National Public Radio's All Things Considered. She began her career at the Los Angeles Times.
Born in Providence, R.I., Lauren grew up in the North County of San Diego and in Los Gatos, Calif., before moving to Los Angeles. She holds a bachelor's degree in English and anthropology from Occidental College and a master's degree in print journalism from the University of Southern California.
She lives with her family in New York City and in Litchfield County, Conn.