Book Giveaway Below!



Pull out your winter coat again

In the third book of the Alaskan quest series, Jayce and Jacob are shipwrecked on an Arctic island with a bleak outlook of leaving. Meanwhile their wives Leah and Helena are back at home in Alaska waiting for their husbands to get back home. Leah is still struggling with the fact that her children may not be really be Jayce's children and the aftermaths of what Chase had done to her. Helena is worried that Jacob still doesn't really love her. The two women bond together as they battle the harsh Alaskan setting, dealing with influenza, changes from their friends, and the outbreak of WWI.

I've mentioned before I love really good book covers. This whole series has had some beautiful covers and this one is my favorite (the whole hair blowing in the wind thing). I want to say that it's Leah on the cover. I enjoyed reading the book as it tied up many story lines and described more historical detail about the time period and area. I felt however that the back cover summary only focused on the first half of the book. While the situation with Jayce and Jacob being shipwrecked is a big factor of the story, it is only part of the book. I did like the side storyline about the "Russian" guy. Winter usually brings about death and there were many deaths in the book, including a major beloved character that was unexpected. While reading this book, once again I felt really cold especially when the men were stuck on the island. Totally realistic reading when you think you need to put on a coat. I hope that maybe there will be another spin off of this series, perhaps focusing on Karen's children?

Whispers of Winter by Tracie Peterson is published by Bethany House (2006)

No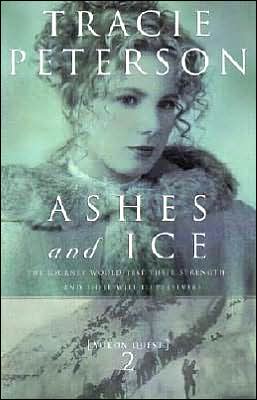 w for the book giveaway! I have a copy of the second book from Tracie's Yukon Quest series, "Ashes and Ice" where we are first introduced to Jacob and Leah. Leave a comment with your email address saying you want to enter. I'll pick a name and announce the winner on Tuesday, January 16. Good luck!