Book Review: "A Pagan's Nightmare" by Ray Blackston
Don't forget to enter the book giveaway to win a copy of Ashes and Ice.
Click here to enter. I'll pick a name and announce the winner on Tuesday.
This week, the Christian Fiction Blog Alliance is introducing A Pagan's Nightmare (Warner Faith 2006) by Ray Blackston
ABOUT THE AUTHOR:
Ray Blackston of Greenville, South Carolina, worked as a buyer and a broker for eleven years before cashing in his modest 401k and leaving his corporate cubicle in 2000 to write full time. He is a graduate of the University of south Carolina, with a degree in Finance and Economics.
He serves on the drama team at his church, participates in a weekly men's accountability group, serves on the missions committee of his church, has traveled to rural Ecuador on a summer missions program, and coaches his seven-year-old nephew, Action Jackson, in T-Ball.
When he is not crafting a new novel, is exploring south Carolina beaches with friends and family. He competes in golf tournaments, leads a writers' critique group, and relives his youth through a large collection of eighties music!
His first novel Flabbergasted was one of three finalists for the Christy Award for best first novel, and was chosen as Inspirational Novel of the Year by the Dallas Morning News.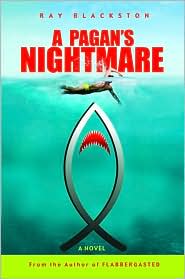 What if Christians ruled the world?

Larry is a writer who has given his publisher Ned what he thinks will be the next great novel. It's
the story about Lanny who lives in a world where Christians have taken over and all the pagans are being hunted down. Lanny and radio DJ Ned Neutral (an homage to editor Ned) are two of the few "unfortunate ones" left and trying to run for their lives from. Lanny is also on the search for his girlfriend Miranda as he worries that she has become one of "them". Meanwhile in the real world, Ned is letting everyone read Larry's manuscript including his own
wife who is not happy with the book. She feels that it's a attack on Christianity and must be stopped. While battling wits with his own wife, Ned continues to discover more about himself and Larry as he delves deeper into a world where Christians are the supreme ruler.


This was my first Ray Blackston novel and I must say I throughly
enjoyed it. I really liked the story in a story format, I felt like I was reading at the same pace as the characters who were reading the novel. I think that Larry's story was a good representation of what a non-Christian often views the religion to be. Christians should be alerted to this, that we're not some closed off club that tries to frighten people into joining. In the story, Christians have become the bad scary guys, who all follow Marvin who claims that only he knows what God really is saying. I found the speaking in King James a hoot because there are many people who still think that the KJV is the only true version of the Bible. I really liked the way the song lyrics were changed, especially being a huge Beatles fan, I got a kick out of the new words. I felt frustrated with Ned's wife at first because it seemed to me that she was one of those Christians that spent more time attacking than witnessing. I rather found it ironic that she is such a go at it Christian, yet she is married to such a lukewarm one. I got a good laugh out of the discussion questions at the end, especially the question for single people. This book really made you think about why does Christianity have to do things are certain way? Do we place those rituals as more important than our relationship with Jesus? I recommend this book for anyone who enjoys a funny, light read that makes you think hard after you're done.
A Pagan's Nightmare
by
Ray Blackston
is published by
Faithwords
(2006)